Scottish election: Votes bid ongoing on wedding day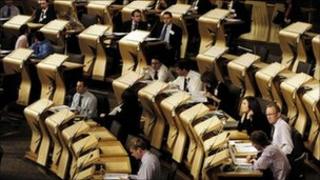 The political parties have continued campaigning as much of Scotland begins another holiday weekend.
The Tories were in St Andrews to talk about their tourism policy and the SNP's deputy leader Nicola Sturgeon set out the party's pledges for pensioners.
Labour launched two mini manifestos, one for carers and another to promote co-operation in mutuality.
The Liberal Democrats' former MP Willie Rennie was leading his party's campaigning in Perth.
He said the Lib Dems had the solutions for Scotland, with good ideas to get the country's economy moving again.
Mr Rennie added: "We are campaigning across the country to keep police local, restore excellence in education and create thousands of jobs.
"These are the messages that chime with people on the doorsteps. Only electing Liberal Democrat MSPs next week will send the message loud and clear - keep our police local."
The Conservatives' deputy leader Murdo Fraser said his party would "investigate the viability" of a Scottish Tourism Investment Bank, based on the Austrian model.
From St Andrews, where parties were being held to celebrate the wedding of Prince William and Kate Middleton, Mr Fraser added: "We will lead development of a 'Year-Round Tourism Strategy'.
"This will help ensure that tourism businesses make a continuous contribution to their local economies and will make employment in the industry more stable and rewarding, which will in turn raise the calibre of entrants and encourage the retention and development of staff."
As first minister and SNP leader, Alex Salmond was at Westminster Abbey for the Royal wedding, his deputy Ms Sturgeon was outlining the promises the party has made to pensioners.
She said: "Scotland's pensioners are the generation who built our nation. Our pensioners should be able to enjoy their older years without worrying about rising costs and bills."
Ms Sturgeon added that an SNP government would provide free bus travel and protection for free personal care, alongside a council tax freeze for five years.
Labour deputy leader Johann Lamont said the party would introduce a carers champion within its cabinet to put carers at the centre of government decision making, increase provision of respite care and establish a carers' summit.
She also spoke about co-operatives, adding: "Scotland has a proud tradition of co-operation and mutuality. The Fenwick Weavers Society in East Ayrshire is the world's oldest known co-operative, which this year celebrates its 250th anniversary.
"Scottish Labour believes that co-ops and mutuals are not just a proud part of Scotland's history - they have a major role to play in Scotland's future."