Scottish election: Clegg and Miliband join campaign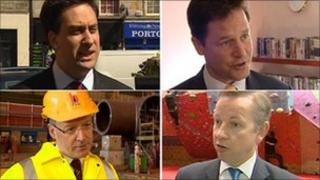 Labour and the Liberal Democrats are hoping to boost their election prospects with visits from both UK party leaders to Edinburgh.
Deputy Prime Minister Nick Clegg addressed a business breakfast in the capital before meeting residents at a sheltered housing complex.
Labour leader Ed Miliband also hit the campaign trail, ahead of 5 May.
The UK Education Secretary Michael Gove was in the north-east and the SNP's John Swinney visited Fife.
Mr Clegg said he accepted the UK government coalition was "controversial in a country such as Scotland where a lot of people of have got quite dark memories of what happened under the Conservatives in the 1980s".
He added: "I however think that some of the claims made by Labour, the SNP and others that the clock is going to be turned back to the 1980s is just ludicrous.
"This is 2011. It is not 1979. This is not a Conservative government in London. It is a coalition government and, of course, we won't allow the damage that occurred to Scotland to occur again."
Also campaigning in the Scottish capital, Mr Miliband hit out at Mr Clegg for "propping up" the Tory-led government.
"There is a clear choice at this election - people in Scotland can choose to have a Labour government that will abolish youth unemployment, create hundreds of thousands of jobs and build a fairer Scotland, or people can have five years of the SNP, who they admit will use a second term to bring about a referendum on independence," he said.
"I am very clear about what an SNP win would mean - the SNP's obsession with a referendum on independence would put off investment and put the economy at risk."
Meanwhile, Mr Gove, who said his party was having a fantastic election campaign, was promoting the Tory plans to bring in a voluntary sector "right to bid" for running public services.
He said: "We know cash is tight, we know money is scarce.
"But we also have in Scotland a surfeit of energy and idealism which is contained within the charitable and voluntary sector and amongst many of the people, for example, who are putting themselves up for election.
"If only we can unleash that energy we can make a real difference."
Mr Swinney, the current SNP finance secretary, outlined his party's vision for the "re-industrialisation" of Scotland through green energy.
On a tour of wave energy technology company Burntisland Fabrication, in Methil, he said Scotland needed to keep a "competitive edge" in the renewables sector to ensure long-term growth.
"Scotland has a quarter of Europe's offshore wind and tidal potential, and a tenth of the continent's wave power sources," he said.
"With the proper investment in research and development, and in the engineering skills we need, we can and will turn that potential into reality."
The Greens attended an International Workers Memorial Day event, organised by North Lanarkshire Trades Council, where they set out the party's plans for fairer wages in the public sector.
The party said it wanted public sector employees to be paid at least £7.15 per hour.