Scottish election: David Cameron joins campaign trail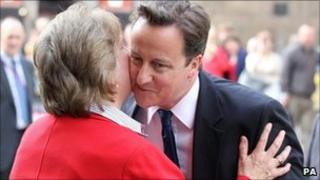 Prime Minister David Cameron has hit the Holyrood campaign trail, ahead of the 5 May Scottish Parliament election.
Speaking in Inverness, Mr Cameron said the Tories were "already bringing common sense leadership" to the UK.
Lib Dem MP Danny Alexander, chief secretary to the Treasury, was also campaigning in the Highland capital.
SNP leader Alex Salmond addressed the STUC in Ayr, while Labour's Iain Gray continued his jobs creation drive.
Mr Gray met young musicians in a recording studio in Eastwood, East Renfrewshire, to highlight Labour's manifesto pledge to deliver a new musical instrument fund for schools and get more pupils involved in music.
He said: "Music and the creative industries have vast potential to grow Scotland's future economic prosperity.
"We cannot allow just kids from families who can afford to stump up for private tuition to get the chances.
"If we don't invest in Scotland's young people today then we are in danger of missing out on the next Franz Ferdinand or Glasvegas."
The Tories said the prime minister's appearance would be a boost to their campaign.
Mr Cameron told a gathering of supporters: "Alex Salmond and Iain Gray think this election is all about them. Here's a novel idea: shouldn't this election be about Scotland and the Scottish people?
"They don't want senseless mudslinging. They want straight talking and delivery on the issues that matter.
"Let me tell you, there's no politician who tells it straight like Annabel Goldie. I should know - I've been on the receiving end of it myself."
'Crying out'
Mr Salmond's address to the Scottish Trades Union Congress defended the Scottish Parliament's legislation which grants compensation for the condition pleural plaques.
The SNP leader told union members: "We were mocked for bringing forward legislation - they said it was impossible. But we did it.
"Then they said it was illegal. It was not. Last week the insurance companies failed to overturn the act in a second appeal to the Court of Session.
"I am proud to be first minister of a country where the rights of people with industrial injuries come before the financial interests of insurance companies."
Meanwhile, Danny Alexander, the MP for Inverness, Nairn, Badenoch & Strathspey, joined local candidates Christine Jardine and Alan MacRae on a visit to a bakery to focus on the party's proposals to create regional development banks to support small businesses.
Mr Alexander said: "It is deeply concerning that so many viable companies are still not getting the financial support they need from their banks.
"The Scottish Liberal Democrats' new regional development banks would provide local businesses with an additional £500m of support at a time when many Highland firms are crying out for help."