Scottish election: Is a council tax freeze achievable?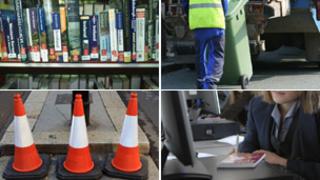 The anger of some councillors over pledges by Holyrood parties to deliver another freeze in the council tax hints at the delicate power game between local government and the Scottish government.
Although the council tax has been frozen for four years, each of Scotland's 32 local authorities sets the council tax in its area.
They had the right to refuse to freeze the council tax, although in reality this would have been almost impossible.
Councils are fiercely protective of their powers.
Remember the row last year after the then finance secretary John Swinney announced another council tax freeze?
Glasgow City Council was quick to insist there was no deal even though it later accepted the package on offer, albeit reluctantly.
So, are further deals to freeze the council tax across Scotland - or even a deal to freeze it for five years - achievable?
With the Scottish government's budget likely to remain tight there will be no jacuzzi of government cash for councils with millions extra from Holyrood to local government.
But there are two ways it might be possible to deliver a freeze.
One is to legislate to enforce a council tax freeze.
But such a move would risk open conflict between councils and the Scottish government. It could be seen as a move to take power away from councils and place it in the hands of the government.
A second option is the kind of carrot and stick approach which has been used to freeze the council tax since 2007.
Essentially this meant making the kind of offer to councils which would have made it hard for them to increase the council tax while maintaining their right in principle to do so.
For the first three years of the SNP government, councils were given extra money each year to freeze the council tax.
If a council had wanted to put the tax up, it would have lost this extra cash so the increase would have had to be even higher.
Last year's offer to councils was more stark - a cut in government cash if the council tax was frozen, a far bigger cut if it was not.
Many in local government have grave reservations about the effect years of difficult funding settlements will have on local services - even some of those who believe the Holyrood government is giving councils a fair share of its resources.
Ultimately, though, Holyrood does have the power to ensure the council tax remains frozen if that is what a majority of MSPs want.
The question is whether that would be achieved by compulsion or through the kind of offer which councils might, in practice, find hard to refuse - even if some might claim not to like it.