Scottish election: Party drive on dentistry and economy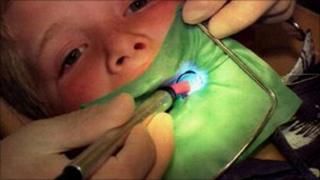 Scotland's main political parties have been campaigning on health and the economy, ahead of the Holyrood election on 5 May.
Labour leader Iain Gray has told the STUC conference about his party's plan to get people back to work.
The Tories' leader Annabel Goldie launched her manifesto on tax in the Highlands and Tavish Scott of the Lib Dems has been promoting tourism.
SNP leader Alex Salmond highlighted an increase in NHS dental registrations.
Following a visit to Aberdeen Dental School, he said: "We have tackled the difficult issues in our NHS, protecting local services like child cancer care and neurosurgery here in Aberdeen, and addressing the serious shortage of dentists left by the previous administration by funding a new dental hospital here in Aberdeen.
"We have also ensured a big increase in the number of NHS dentists, and over one million new registrations with NHS dentists across Scotland."
Mr Gray was in the south of the country earlier on Monday, campaigning in Dumfries, before addressing the STUC in Ayr.
He said: "Youth unemployment affects every one of our towns and cities. People know what that brings - youngsters with no hope, no future. We cannot afford another lost generation.
"That is why Labour has a plan to abolish youth unemployment in this parliament, as part of a mission to create a quarter of a million new Scottish jobs in the next decade."
Mr Scott joined Mike Rumbles, the Lib Dem candidate for Aberdeenshire West, at a local tourism business, Deeside Activity Park.
They took a quad bike tour of the venue, while campaigning for the establishment of Regional Development Banks.
Mr Scott said: "Tourism is Scotland's biggest industry. It creates and sustains thousands of jobs across the country.
"Our Regional Development Banks will get money into more local businesses, let down by the greedy banks. They would have responsibility for promoting their home region with a regional tourism policy."
And in Inverness, Annabel Goldie launched her manifesto on tax.
She said: "We live in tough economic times. At Holyrood, what we need now, more than ever, is a political party with a proven common sense record of delivery over the last four years.
"Only the Scottish Conservatives aspire to a dynamic, entrepreneurial, low tax Scotland."