Scottish election: Scott 'uncomfortable' with Tories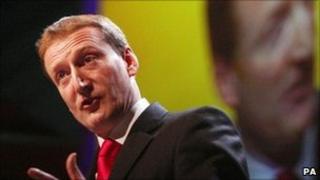 Scottish Liberal Democrat leader Tavish Scott has sought to distance his party from the UK Lib Dem/Tory coalition.
Mr Scott said he was not comfortable about the Scottish party being "related" to the Tories.
His comments came as Labour continued a doorstep campaign and the Conservatives put audio versions of their manifesto on their website.
Meanwhile, Deputy First Minister Nicola Sturgeon set out the SNP's vision for Scotland.
Asked on BBC Scotland's Politics Show about the impact of the UK coalition on the Scottish Lib Dems, Mr Scott said: "It's simply that the Liberal Democrats in Scotland are related to the Conservatives. I am not particularly comfortable about that."
Mr Scott pointed to Prime Minister David Cameron's recent speech on immigration, which he said Liberal Democrat colleague Vince Cable had been "very strongly against".
'Extraordinary speech'
He said Mr Cameron's speech was "pretty extraordinary", given that Liberal Democrats had helped end the detention of children of asylum seekers at Dungavel.
Mr Scott continued: "That would not have happened if we had left the Conservatives on their own. In the same breath we have seen this weekend the AV referendum discussed in pretty ridiculous terms by a Tory who said apparently it could lead to race riots.
"Just extraordinary language from the Conservatives and not language that I am in any way comfortable with."
Mr Scott said he would work, as he had done over the past year, with any of the other political parties in Scotland "on the Scottish interest".
Asked about his party's election chances, Mr Scott said: "I want to do well, but it is a challenging election. We are fighting very good campaigns right across Scotland, and the response I am hearing when meeting people in different parts of the country is very positive indeed."
Tories 'pivotal'
Meanwhile, the Conservatives said they would do what was in the best interests of Scotland once the election was over, as they announced they had put audio versions of their manifesto Common Sense for Scotland on their website.
Campaign manager David McLetchie said the party knew from the doorsteps of Scotland that people were warming to leader Annabel Goldie's "message of common sense and telling it like it is".
He added: "They know we have delivered for Scotland over the last four years and that we will be pivotal in the next parliament.
"Voters want somebody to keep their taxes low and protect them from the pie in the sky spendthrift policies of Labour and the SNP.
"Once the votes are counted, our sole test will be to do what is in the best interests of Scotland. As we have repeatedly said, we rule nothing in and we rule nothing out."
Community 'heart'
Scottish Labour leader Iain Gray was out on the campaign trail in Renfrewshire on Sunday, highlighting his party's commitment to supporters' trusts and greater community involvement in football.
During a visit to Erskine Youth Football Club, he commented: "Football clubs are at the very heart of our communities and in government Labour will ensure that the voices of supporters are heard in boardrooms across the country by backing Supporters Direct.
"Clubs across Scotland have proved that it is possible for fans to own and manage a club in the interests of the supporters and the local community.
"I want to see changes in the Scottish game so that supporters have a meaningful stake in their clubs and a much greater say in the way that the game is run."
The visit formed part of Labour's "doorstep weekend", a drive to get 5,000 Labour party members and activists on the campaign trail in seats across the country.
SNP 'vision'
Meanwhile, Deputy First Minister Nicola Sturgeon said the party would build on its record in government as she set out the SNP's vision for Scotland.
She argued that the party's manifesto "was about much more than a council tax freeze", referring to a commitment by the SNP to freeze the tax for five years.
Ms Sturgeon pointed to the SNP guarantee that no Scots students would pay tuition fees to go to university in Scotland, and its promise to protect health spending.
She also highlighted the party's pledge for a £250m Scottish Futures Fund, investing in jobs and young talent, including plans for a National Football Academy.
Ms Sturgeon added: "In the end this election will come down to who people want running their hospitals, schools and justice system.
"The SNP has shown we have the team to do that.
"And we are the only party with a positive vision for the future of this country because we want to make the most of our talented people and our vast natural resources, including our booming oil revenues currently pouring into Westminster coffers."