Scottish election: Parties on weekend election drive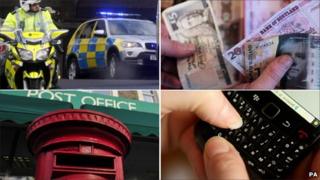 Scotland's main political parties are out in force again across the country this weekend.
Scottish Labour aims to get 5,000 members and activists on the campaign trail in every seat in Scotland.
Scottish Lib Dems were in Orkney to highlight their opposition to a single national police force.
The Tories were campaigning for council counters to be set up in post offices, while the SNP was promoting its five-year council tax freeze proposal.
Mobilise activists
Scottish Labour launched its "doorstep weekend", sending members and activists around every seat in Scotland.
The party used its online membersnet system as well as text messages and phone calls to mobilise its activist base.
Leader Iain Gray joined local campaign teams and Labour's candidates in Midlothian North and Musselburgh, as well as Bellshill and Uddingston.
Other shadow cabinet members were campaigning across Scotland.
The party has set a target of contacting one million Scots by phone or on the doorstep before the campaign is out. It said it had already reached nearly 860,000 people.
The party is also distributing a new leaflet highlighting its "two-week cancer waiting time guarantee".
'Dangerous plans'
Liberal Democrat MP for Orkney, Alistair Carmichael, joined local candidate Liam McArthur to campaign in Kirkwall on the party's opposition to a single national police force.
The Lib Dems claimed the move could see 3,000 police officers lost from Scottish streets.
Mr Carmichael said: "A single national police force would see police disappear from streets in Orkney as resources are sucked into Glasgow and Edinburgh.
"That is why people across the Highlands and Islands, in the north east and in the borders are all opposed to these dangerous plans.
"People in the central belt should be just as worried, as SNP and Labour plans will take control of policing away from their communities and hand it instead to civil servants in Edinburgh."
'Council counters'
The Scottish Conservatives were pushing for a framework for local authorities to open council counters in Post Office branches.
Speaking from Colinton Post Office in Edinburgh, Scottish Tory election campaign manager David McLetchie said post offices had been through a tough time in recent years.
He commented: "Many people, particularly in more rural areas, depend on post offices as a vital part of their community. We should do all we can to protect them but also look at ways of improving the services they provide.
"One way of doing this is looking at the idea of providing council services through 'council counters' in Post Offices.
"Council counters would improve engagement with local residents, ensure that vulnerable people had access to vital services and also help to secure the long-term future of the Post Office network."
Council tax
Meanwhile, actress Elaine C Smith joined Deputy First Minister Nicola Sturgeon on the campaign trail in Govan, Glasgow.
They launched the SNP's latest campaign leaflet, promoting the party's plans to freeze the council tax for five years.
Ms Sturgeon said: "The SNP froze council tax in the last parliament and we will freeze it again, saving the average household over £1,200 under an SNP government.
"The SNP is the only party to have put a stop to ever-increasing tax bills at a time when family bills are under growing pressure.
"Here in Glasgow, people know Labour wants to put their council tax up. Labour have spent the last four years opposing the council tax freeze. They cannot be trusted to keep household bills down."
She added: "Over this weekend, as the campaign steps up a gear, we will be delivering 500,000 cards to make sure Scotland's voters know that it is only with a re-elected SNP government that they can keep the council tax down and protect their household budgets."