Scottish election: Parties focus on economy and health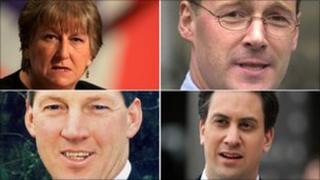 Labour leader Ed Miliband joined the Scottish election campaign trail, as the four main parties focussed on the economy and health issues.
Mr Miliband, the first UK party leader to campaign, was in Aberdeen, while the SNP's John Swinney highlighted his party's plans to grow the economy.
The Tories focussed on plans for a cancer drug fund, while the Lib Dems backed fair ferry fares.
Voters go to the polls in the Scottish Parliament election on 5 May.
The day after the SNP launched its election manifesto, Mr Swinney pledged to boost Scottish exports by 50% over the next six years.
Speaking on a visit to Deanston Distillery, in Doune, he said: "Whisky is a great Scottish success story - with exports last year valued at £3.45bn, a 10% increase on 2009. In a second term, the SNP is committed to growing the value of the Scottish food and drinks sector to £12.5bn by 2017.
"Growing our export market is the next step on the road to recovery - with the full backing of a re-elected SNP government, we are determined to make it a big one."
Lib Dem campaign chairman and MEP George Lyon was in Argyll and Bute where he pledged to continue investment in lifeline ferry links and a fair deal on ferry fares to all of Scotland's islands.
Hitting out at the SNP government, Mr Lyon said: "Although the extension of the Road Equivalent Tariff scheme was certainly good news for the Western Isles, it offers nothing for people in Orkney, Argyll and Bute or other island communities who will not benefit.
"This is an electoral bribe from a party desperate to hang on to an island seat - the fact is that the Scottish government needs to be working to bring fares down for all islanders."
Tory leader Annabel Goldie was in Ayr to pledge a £10m-a-year cancer drugs fund to make medication available south of the border accessible in Scotland.
She said: "Scottish Conservatives believe that it is unacceptable there are expensive cancer drugs, recommended by doctors, available to patients in England and Wales, which are not available in Scotland.
"The action taken by the UK government in setting up a cancer drugs fund has been warmly received by cancer sufferers, their families and campaign groups in England and Wales - we believe it is time to take action in Scotland."