Scottish election: Economy 'key to Holyrood vote'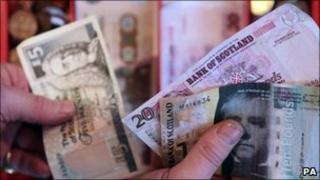 In Scotland, this feels like the hangover election. The Westminster hangover election. In three ways.
Firstly, the Holyrood elections have been made to coincide with the referendum on changing to a system of AV voting for the House of Commons - although it would appear evident from the early stages that it is the Holyrood ballot which is to the fore.
Secondly, these Holyrood elections are utterly dominated by one theme - the economy and public spending. That is because of spending cuts driven by the UK government in an effort to cut the deficit.
In Scotland as elsewhere, there is a debate to be had as to the pace and depth of those cuts.
Are they required to re-establish Britain's global reputation and rescue the economy? Or are they too rapid and too deep, carrying the risk of choking off growth.
But, as things stand in Scotland, there is a fixed budget. Whoever is in power must cope with a cut in the fiscal year of £1.3bn, according to the Scottish Government, or £900m according to the Treasury which operates a different baseline.
So, this election is primarily a debate over who is best placed to cope with the cuts.
As ever, the parties still seem keener to talk up the goodies - rather than stress the problems to come.
Their macro message is one of constraint and austerity - or, rather, of their unique capacity to cope with such challenges. But their micro messages are still of things that might advantage the voters. Free higher education, free prescriptions, curbing the council tax, maintaining health spending.
The Tories depart from that to some degree. They say that a graduate charge will be necessary to fund universities and they question whether Scotland can afford universal free prescriptions. They also talk of supporting health expenditure and are offering a £200 council tax discount to all pensioners, regardless of income
The Greens depart from the consensus in a different way. Their talk is of higher taxation, particularly imposed upon the wealthy, in order to fund sustained expenditure.
But, mostly, the election offers still sound like give-aways - even as the parties acknowledge the extent of the economic challenge.
Which brings me to the third Westminster hangover. The impact of the UK coalition. Or, more precisely, the impact upon those parties who form that coalition as they seek to offer their distinctive messages in these Scottish elections. The impact, as you will have discerned, has been differential.
Consider, first, the leader of the Scottish Tories, Annabel Goldie - or Bella as she is occasionally called by the wicked, disrespectful media. David Cameron once described her as "his favourite Scottish auntie".
I'm not sure she was entirely delighted at the time, but she has since developed the persona - droll, self-effacing, ironic.
For these elections, she is evincing another characteristic. Blunt Bella. Straightforward. Tell it like it is.
Why this approach? One reason - necessity. The spending cuts are prescribed by a government led by her party, led by David Cameron. She has no option other than to swallow the medicine - and pronounce it delicious or at least wholesome. Faced with a difficult economic and political situation, she has chosen to embrace the austerity agenda with overt enthusiasm.
By way of contrast, turn now to Tavish Scott who leads the Scottish Liberal Democrats. He faces a bigger conundrum still, within the coalition, it is the LibDems who are bearing the brunt of the popular scorn.
Mostly, that derives from the U-turn they were obliged to make over the introduction of higher tuition fees in England. But for many, especially in Scotland, it is the fact that they are sustaining a Conservative government in office.
The Westminster strategy is founded upon long-range thinking, a five-year term. Hammer home the tough message and spending cuts now, produce more emollient stuff later in the session. Snag for Tavish Scott is that he is facing an election in a few weeks - not four years.
Broadly, his strategy for dealing with that is founded upon three planks. He will stress those elements of the coalition programme which are beneficial - such as exempting the low-paid from income tax or uprating pensions.
Secondly, he will stress that these are Scottish elections to a Scottish Parliament - and that he is contesting them as an autonomous Scottish leader, offering Scottish policies.
Thirdly, where necessary, he will disavow his federal leader, Nick Clegg. He will say: "I disagree with Nick". Specifically, he will say that there is no way the Scottish Lib Dems will be endorsing university tuition fees or indeed graduate charges in Scotland. He will set a distance between himself and the federal party.
Let me turn finally to the two largest parties in Scotland - the SNP and Labour.
Labour's narrative for these Holyrood elections is to seek to replicate their success at the UK General Election in Scotland in 2010. In those elections, Labour lost support in England and Wales - but saw their vote increase in Scotland where they regained two seats lost at by-elections. It was a success, against the UK trend.
But these are very different elections, aren't they? To a devolved parliament where the SNP has been in power. So, how do Labour replicate the UK election success?
The party's strategic answer is, in essence, to depict these elections as a fight against David Cameron. Not Alex Salmond. You will hear this syllogism - that the real threat to Scotland lies in Tory cuts; that only Labour can fight the Tories; that the SNP are distracted by independence.
In short, they posit the prime minister as a form of externalised threat, a bogey-man - and then offer themselves as the tough guy to chase the baddie away; to revive the Scottish economy and create jobs. It is an attempt to marginalise the SNP.
Naturally, the SNP are disinclined to be confined to the margins. Their narrative consists of three words: record, team, vision. On record, they will argue that, within the constraints of minority government and money, they have registered a series of achievements during their term in office.
Then team. Alert to talk of a one man band, Alex Salmond is exceptionally keen to stress the claimed calibre of his Ministerial colleagues. Indeed, his overt strategy is to argue that, person for person, the SNP is better equipped than Labour to cope with the challenges of government.
Full tax powers
Finally, vision. Again alert to the prevailing circumstances, Alex Salmond will place his party's long-standing objective of independence firmly in an economic context.
He will argue that the best way to stimulate economic growth is for Scotland to have the full range of tax powers, including corporate and oil taxation. That his party's core belief is a productive answer to the current problems.
For these elections, economic frailty is prime. But there is a significant constitutional choice too. The Unionist parties - Labour, Tory, LibDem - support enhanced devolved tax and borrowing powers in a Bill presently before Westminster.
An incentive, they say, for Holyrood to grow the economy. The Nationalists want full tax powers as a prelude to independence - again linking that to prospects for growth. Thus is the constitutional choice directly connected to popular anxiety.