Scottish election: Campaign focus on police and carers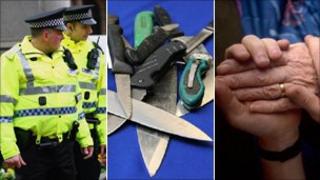 Policing, knife crime and help for carers have all been themes of the latest campaigning for the Scottish Parliament election.
Scottish Labour leader Iain Gray said his party was prepared to take tough action on knife crime.
The SNP's deputy leader Nicola Sturgeon said her party had a range of measures to help unpaid carers.
Scottish Tory justice spokesman John Lamont said his party backed democratic control over policing.
The Liberal Democrats Scottish leader Tavish Scott was in the south of Scotland to launch his party's manifesto, ahead of the 5 May poll.
He promised more power and financial control for headteachers and laid out the party's opposition to all tuition fees, both upfront and after graduation.
Mr Gray spoke about knife crime after opening the Renfrew campaign office of Labour's candidate for Renfrewshire North and West, Stuart Clark.
He said: "Knife crime is such a significant problem in Scotland.
"Labour has listened to that and that is why we say if you are convicted of carrying a knife we believe that you should go to jail. In this election it is only Labour standing up for tough action against knife crime.
"The cost of knife crime to Scotland is incredible, it costs £500m a year to our NHS to treat the victims of knife crime."
The SNP's Ms Sturgeon was visiting the Princess Royal Trust Glasgow South East Carers Centre where she spoke about her party's plans to continue funding 10,000 weeks of respite provision for carers.
'Proper support'
She outlined pledges to extend the Energy Assistance package to carers, give an extra £2m for short breaks for families with severely disabled children, establish the Caring for Carers Employers kitemark for employers who offer support and flexibility and create an annual "Carers' parliament" for access to MSPs and ministers.
The SNP has also promised to ensure young carers' needs are better recognised by their schools by introducing "flexibility" to the Education Maintenance Allowance for those whose caring responsibilities make it difficult to fulfil attendance criteria.
Ms Sturgeon added: "We owe it to Scotland's carers not only to get the laws and guidance right but to make sure that our words are translated into actions on the ground.
"Over the next five years we will work to ensure carers are treated properly as partners in our health and social care systems. The views and voices of Scotland's carers must be properly heard and their needs properly supported."
While visiting Selkirk Police Station, the Tories Mr Lamont said the public wanted to feel a real connection with their police.
He added: "Because we are committed to local policing and local accountability, we will replace police boards with elected local police commissioners, each covering a local area.
"Giving people democratic control of the police is a huge step forward, but it is not enough. We need to give local people the information and direct powers they need to challenge their neighbourhood police teams to cut crime.
"So, we will oblige the police to publish very detailed local crime data statistics every month, including crime maps, and require police teams to have regular neighbourhood beat meetings so they know what people's priorities are."