Scottish election: Students focus on cost of learning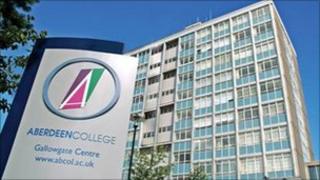 With the Holyrood election campaign in its second week, BBC Scotland's Good Morning Scotland reporter Kevin Keane continues his journey to find out what matters to ordinary members of the country's electorate.
Tuition fees have created a renewed interest in politics from students across the UK.
And though traditionally a nation which has avoided placing the burden on those choosing to study, spending cuts mean Scotland's politicians are having to nail their colours to the mast.
Some studious types are sceptical about the promises being made anyway.
At Aberdeen College a small group of students met to tell me about the issues they're considering when deciding where to place their cross.
It might not be a surprise what was the number one topic.
Lani Bairn told me: "A lot of college students are wanting to go to uni and we've seen in England the tuition fees and the widening gap within education and student participation."
The part-time social sciences student was one of 150 young people from the north-east who travelled to London to demonstrate against Westminster plans on tuition fees south of the border.
She added: "I certainly don't want to be paying tuition fees, I want to be able to go to uni and get my degree. We need students from poorer backgrounds to be able to get into university."
None of the others disagreed.
Mario Mandinga said: "There's no tough decision here, this is education."
"If you don't put money in education there will be no doctors and without doctors there's not even a hospital."
Speaking about politicians in fighting terms, he said: "They don't care about us because they're not going to be here to live in our society but we're going to be here, so we've got to do whatever we can to get what we deserve."
Kyra Murison, who doesn't reach voting age until October, said: "I am a little bit worried about how it's going.
"I do believe that we shouldn't have tuition fees because it's a vicious circle of people from the working class or below not having the chance to go to university and it'll always be the ruling classes who are at university."
Already some pledges have been made on fees but those students who can vote say it will be a deciding factor for them on polling day.