Scottish election: SNP urged on local income tax advice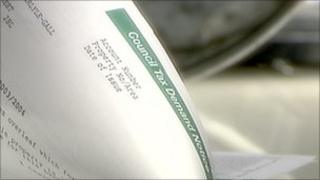 SNP ministers have come under fire over their legal battle to block release of projected costs for Scottish households, under their plans to bring in a local income tax.
Scottish information commissioner Kevin Dunion previously ruled it was in the public interest to release officials' advice to ministers, including their calculations.
It was sought under Freedom of Information law in February 2009 by the Daily Telegraph newspaper, which was looking into what projections for local income tax had been shown to ministers, before the plans were abandoned.
The policy was intended as a replacement for council tax.
Last year, Mr Dunion required the Scottish government to hand over the document to him, so he could judge whether it was in the public interest for it to be released.
The Scottish government challenged his right to see the advice, written by chief economic adviser Andrew Goudie, but it dropped its case before that dispute came to court, last July.
The information commissioner has since been in discussion with ministers and officials at the Scottish government, disputing the documents they had considered could be included within the request made by the newspaper.
In February, Mr Dunion ruled the advice from Mr Goudie and parts of another document - a covering memo for Mr Goudie's report - should be released, giving the Scottish government 42 days to respond or appeal.
Last week, it lodged its appeal, arguing the commissioner' s ruling was not in line with Scotland's Freedom of Information Act.
The Scottish government has been arguing there is an exemption for advice "relating to the formulation or development of government policy", including advice given by officials to government ministers.
Its appeal can take up to 18 months to be heard, though there is a precedent for cases to be given priority treatment and heard within three months.
However, the information is unlikely to be released before the election on May 5, with the SNP's case for replacing council tax with local income tax already established as a major campaign issue.
Commenting on the legal action, Scottish Conservative leader Annabel Goldie, said: "You don't block good news.
"There is a can of writhing worms that Alex Salmond is going to extraordinary lengths to keep a lid on.
"This new appeal to the courts looks like a brazen attempt to get past polling day without having to spill the beans."
Scottish Labour Leader Iain Gray told SNP leader Alex Salmond to come clean on how much his flagship local income tax policy to introduce a local income tax will cost hardworking families.
Mr Gray said the SNP's tax plan would cost hardworking families on average £558 per year.
'Odd behaviour'
Mr Salmond confirmed earlier this week of plans to press ahead with local income tax plans, which will appear in the SNP manifesto.
"This is an orchestrated and unprecedented cover-up by Alex Salmond and the SNP to conceal the truth during an election campaign about how their tax plans will hammer hardworking Scottish families," said Mr Gray.
"People have a right to know the truth, but the SNP are using taxpayers' money to gag the media."
Lib Dem finance spokesman Jeremy Purvis, added: "This seems very odd behaviour from the SNP.
"Given that Alex Salmond and John Swinney kept secret from Parliament that they had allowed the Scottish Parliament tax varying powers to lapse, it is no surprise that the SNP are being so shifty."
An SNP spokesman, said: "The SNP's record in government is clear - we have frozen the council tax for the whole of this parliament, saving the average household over £300, it will be frozen for a further two years and we will set out our local income tax proposals in our manifesto.
"This is an issue about whether such advice to ministers should be within the scope of Freedom of Information law, and that will be determined in the proper way.
"It is not about local tax policy".