Scottish election: Health and transport lead agenda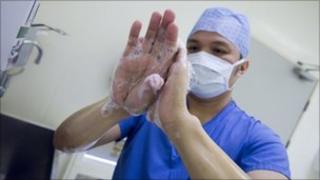 The Tories and SNP have set out their plans to protect local healthcare and NHS spending, as campaigning in the Scottish election continued.
Meanwhile, Liberal Democrat leader Tavish Scott was outlining his plans for rail improvement on a visit to Edinburgh's Waverley Station.
And Labour's Iain Gray said he would put support for families "at the heart" of his campaign.
Voters go to the polls in the Scottish Parliament election on 5 May.
The four main parties will finish off the day with a leaders' debate organised by the Scotsman newspaper.
On a visit to Perth Royal Infirmary, deputy Scottish Tory leader Murdo Fraser said his party would protect the health budget, while cutting management costs by up to 30%, freeing up cash for frontline services.
"Our NHS is an excellent service but it is not perfect," he said, adding: "There is a need for change in some areas.
"There is too much top tier management and too much interference with decisions taken by clinical staff in the front line of patient care.
"The NHS should be fully focussed on patient care and clinical priorities - instead of spending so much time, effort and resources answering to politicians and ministerial dictats."
Child poverty
SNP leader Alex Salmond was at Monklands Hospital, where the SNP reversed a decision to close its accident and emergency unit, after winning the 2007 election.
He pledged to invest £1bn in the NHS, adding: "There have been nearly half a million visits to hospital units kept local by this SNP government.
"At Monklands, Ayr, Dundee, Edinburgh, Vale of Leven, Glasgow and Inverclyde there are local services in local hospitals because of the actions of the SNP and Scotland's health secretary, Nicola Sturgeon, in government.
"And patients to those hospitals are now receiving better, faster and cleaner standards of care with waiting times at an all time low and hospital cleanliness at a high, driving infection rates down."
Mr Scott outlined his party's commitment to extending and improving rail transport in the next session of parliament.
He said: "That investment should support better trains running on the long-distance routes from Edinburgh and Glasgow to Inverness and Aberdeen.
"That means more comfortable trains for passengers and more luggage capacity and wi-fi to encourage business use."
Mr Scott, a former Scottish transport minister, said he had previously taken forward improvements to the Stirling to Alloa and Airdrie to Bathgate lines.
Mr Gray, who was at a mother and toddler group in Lockerbie, said child poverty in Scotland had risen under the SNP.
And he went on: "Now the Tories are back, Scottish families need a Labour government more than ever - the Tories are cutting too far and too fast and families across the UK are paying the price.
"If I am first minister, I will do everything I can to cut household bills, protect the services we all rely on and give Scottish families the help they need."