Scottish election: Deadline looms for vote registration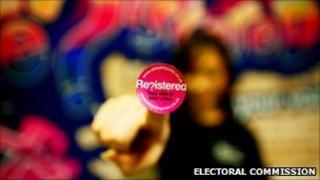 The Scottish public is being encouraged to register to vote in the forthcoming Scottish Parliament election.
The Holyrood poll will take place on 5 May and voters need to have their names on the official register by 15 April if they want to take part.
The AV referendum to decide the voting system that elects MPs to Westminster is also being held on 5 May.
People in Scotland can find out how to register to vote on the About My Vote website or by ringing 08003 280 280.
Andy O'Neill, head of the Electoral Commission in Scotland, said: "If you're not registered or not sure fill in a registration form, print it off and pop it in the post. It only takes a few minutes and will ensure you can have your say on polling day."
Votes can be cast by visiting a polling station on 5 May from 0700 BST to 2200BST, by sending ballot papers through the post or by proxy - sending someone to vote on another person's behalf.
Those wishing to vote by post or proxy must fill in an application form which can be obtained from the About My Vote website.
These forms must be received by 14 April for postal voters and 21 April for proxy voters.
In Scotland you are eligible to vote if you are 18 or over on 5 May and are either a British citizen, a Commonwealth citizen with leave to stay in the UK, or a citizen of the Irish Republic.
British citizens living abroad cannot vote in the Scottish parliamentary elections, but can vote in the referendum.
Citizens of other European countries that have registered to vote in Scotland can vote in the Scottish parliamentary elections, but not in the referendum.