Scottish election: The votes blowing in the wind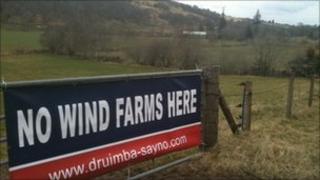 With the Holyrood election campaign in its second week, BBC Scotland's Good Morning Scotland reporter Kevin Keane continues his journey to find out what matters to ordinary members of the country's electorate.
Small but fiercely fought battles over one topic have now become a mainstay of rural life in Scotland.
That single issue - wind farms - can turn normally laidback citizens red with anger.
But a drive for more "sustainable" energy means many of the fights are lost.
One which is being played out in the run up to 5 May relates to an application for 23 turbines north of Drumnadrochit in the Highlands.
At almost 500ft in height they have been billed as among the tallest in Europe.
Objectors have written letters, signed petitions and even protested at Holyrood.
One told me his message to politicians was simple: "Forget it, go for wave power which is out of sight and everybody's way and is not annoying anyone."
Many of the protesters live in properties with views directly on to the forest earmarked for the development.
They are eloquent and passionate but are they typical "nimbys"?
Funnily enough, further away, in the village of Kiltarlity, there are some with a more relaxed approach.
Erin Johnston, who works in the local shop, said: "It's fine, I don't have a problem with it.
"It's got to be done somewhere and I don't notice them anywhere else in the countryside so they'll be fine."
Others were similarly relaxed.
But poring over the newly-published detailed plans, objector Shauna Jennens explained: "We're objecting to the site in its totality.
"It's too big a site, the turbines are too high and it's totally in the wrong area."
A familiar argument, which has almost lost its impact, but that was not all.
She added: "We're lucky because our council has decided to back us but that's not happening in all areas.
"We really want somebody to listen now and not just to the developers."
However vocal objectors become, each wind farm only ever directly imposes on a handful of voters.
But will any candidates tackle this issue head-on or will the drive for more "clean" energy continue to overrule these voices?