Scottish election: Voters speak up for rural tourism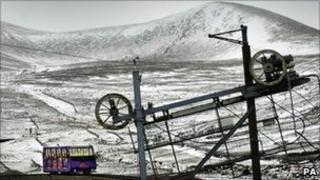 As the Holyrood election campaign enters its second week, BBC Scotland's Good Morning Scotland reporter Kevin Keane continues his journey to find out what matters to ordinary members of the country's electorate.
There are few communities in Scotland which rely more heavily on tourism than Aviemore in the Highlands.
The community was built around the skiing industry when lifts were installed on Cairngorm mountain in the 1960s.
That was when Jeanie Finlayson, now retired, arrived here with her husband to teach skiing.
She told me: "He had a ski school in Glencoe but he couldn't make a living off it, so we came here when we heard they were building the lifts."
Much has changed since those early days.
Mrs Finlayson added: "Everything's well publicised now with the new centre and the resort. I think it's VisitScotland which has done well."
I asked her what, with her years of living here, she thought Aviemore would be without the outdoors industry and she told me in the early days "it was only a wee railway stop".
Millions have been invested since then to bring tourists - and crucially their money - to this resort.
Diversification has kicked in and Aviemore is about more than skiing with cycling, water pursuits and walking all attracting visitors.
Many residents and businesses are anxious about cuts to budgets for organisations such as VisitScotland and others which plough money into tourism.
Karen Hopper from Elrick, Aberdeenshire, is cycling around the area and says investment in bike tracks are what brought her to this part of the Highlands.
She explained: "Certainly the Spey Valley, we come here because of the cycling trials that there are.
"I think [there should be investment] not only to encourage people from Scotland to come here, but also from throughout Britain and the near continent.
"I know the climate is not always favourable, but I think we should invest to encourage the tourism industry."
Better signposting
Matthew Banks from Falkirk was passing through, like many, on this cold early spring day.
A regular walker, he said: "We need to have better trails, better access to trails and better signposting on the routes.
"I've done a lot of walking in New Zealand and the Department of Conservation there have a great set-up.
"It's easy access and it encourages everybody from toddlers right through to pensioners, so I think we should maybe copy their model."