Scottish election: Campaign catch-up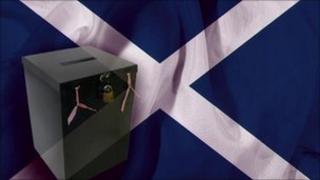 The starting gun for the Scottish Parliament elections was fired following the dissolution of Holyrood on March 22.
For all those standing at the May 5 poll, leafleting, hustings and street campaigning is now the order of the day.
The Scottish Parliament has 73 MSPs who are directly elected from single constituencies.
There are also 56 MSPs who are elected from eight multi-member Scottish regional areas.
The first meeting of the fourth Scottish Parliament will take place within a week of the election taking place, with the new MSPs being sworn in and a presiding officer being elected.
Keep abreast of all the news of the election via our Scottish politics website, our Facebook page or our election Twitter page.
Here, is a weekly round-up of the campaigning so far.
WEEK ONE
TUESDAY, 22 MARCH
Holyrood winds up before election
MSPs bidding farewell to Holyrood
Local views on RAF bases battle
WEDNESDAY, 23 MARCH
Holyrood parties react to Budget
Town's ferry service 'is vital'
THURSDAY, 24 MARCH
Campaign begins in wake of Budget
Fuel price fear for Scots drivers
FRIDAY, 25 MARCH
Parties face education questions
Conservative candidate quits race
Shopping wars hit rural Scotland
SATURDAY, 26 MARCH
Party leaders on campaign trail
Second Tory candidate steps down
SUNDAY, 27 MARCH
Scots Lib Dem candidate resigns
WEEK TWO
MONDAY, 28 MARCH
Party focus on young and economy
Third Tory candidate steps down
'Aliens and strangers' or voters?
TUESDAY, 29 MARCH
Business focus for Holyrood drive
Deadline for Holyrood candidates
Voters speak up for rural tourism
WEDNESDAY, 30 MARCH
Lib Dems make council tax pledge
Vote focus on justice and elderly
Pressing issues for coastal town
Council 'political mag' withdrawn
Scotland election: Issues guide
THURSDAY, 31 MARCH
Health and transport lead agenda
Election votes blow in the wind
Vote registration deadline looms
FRIDAY, 1 APRIL
Election trail focus on education
Students focus on cost of learning
Party leaders speak on BBC radio
SATURDAY, 2 APRIL
Parties on weekend election drive
SUNDAY, 3 APRIL
Parties continue election drive
WEEK THREE
MONDAY, 4 APRIL
Tories detail education reforms
At-a-glance: Scots Tory manifesto
Third week of campaign continues
Senior Lib Dem backs Alex Salmond
UKIP calls for abolition of MSPs
Candidate failed to lodge papers
TUESDAY, 5 APRIL
Lib Dems unveil 'jobs' manifesto
At-a-glance: Lib Dem manifesto
Orcadians speak with clear voice
Votes focus on police and carers
WEDNESDAY, 6 APRIL
Labour bid to end 'jobless youth'
Business at heart of campaigning
Energy issues drive island voters
THURSDAY, 7 APRIL
Principal's tuition fees warning
Parties on Scots election trail
Protest halts Scots Labour event
What do 'new Scots' voters want?
Islanders fight to be connected
FRIDAY, 8 APRIL
SNP's local tax 'would cost more'
Parties focus on tax and business
Fears for future of car ferry route
Veteran MacDonald sets out stall
SATURDAY, 9 APRIL
Parties on weekend campaign trail
SUNDAY, 10 April
Party leaders clash over justice
WEEK FOUR
MONDAY, 11 April
Poll shows Scots' top priorities
Councils attack 'junk' manifestos
Economy and green issues focus
TUESDAY, 12 APRIL
Business chiefs quiz politicians
Parties on Scots election trail
Students speak out on vote hopes
WEDNESDAY, 13 APRIL
Energy site closure sparks change
Green policy on election agenda
Scottish election: Smaller party profiles
Scottish election: Shetland anger
THURSDAY, 14 APRIL
SNP in five-year council tax vow
Election focus on sport and jobs
Remote businesses 'need support'
First-time voters eye election
FRIDAY, 15 APRIL
Holyrood poll campaign continues
Housing is town's pressing issue
SNP publishes achievements list
Look back at manifesto launches
SATURDAY, 16 APRIL
Parties in weekend election drive
SUNDAY, 17 APRIL
Scott 'uncomfortable' with Tories
Rural voters highlight priorities
Parties debate Scottish economy
WEEK FIVE
MONDAY, 18 APRIL
Votes focus on dentistry and jobs
Can the council tax freeze go on?
In Pictures: Holyrood 'in focus'
Cable: Lib Dems 'restrain' Tories
TUESDAY, 19 APRIL
Party leaders attend police event
Greens to launch party manifesto
At-a-glance: Scottish Green Party manifesto
How important is The Sun's SNP support?
Counting down to 2011 elections
WEDNESDAY, 20 APRIL
Cameron joins election campaign
Money issues key to Holyrood vote
Cash problems 'being wished away'
Party manifesto figures outlined
What are the big issues for Largs voters?
THURSDAY, 21 APRIL
PM: 'Scots Tories can do better'
Brown on Holyrood election trail
Unis 'should sell extra places'
Carers make plea to politicians
FRIDAY, 22 APRIL
Parties begin Easter campaigning
SATURDAY, 23 APRIL
Holiday weekend votes bid ongoing
SUNDAY, 24 APRIL
Easter push for Holyrood election
WEEK SIX
MONDAY, 25 APRIL
Holyrood election drive steps up
Warning over social care merger
The perils of dogs and underpants
TUESDAY, 26 APRIL
Party leaders campaign in cities
Poll suggests tax freeze support
WEDNESDAY, 27 APRIL
Economy focus in Holyrood battle
Do homeless people have a voice?
Politicians turn to eco-community
THURSDAY, 28 APRIL
Leaders hit Scots campaign trail
FRIDAY, 29 APRIL
Votes bid ongoing on wedding day
SATURDAY, 30 APRIL
Parties in final campaign weekend
SUNDAY, 1 MAY
Parties campaign ahead of debate
Election pledges 'lead to cuts'
Party leaders clash in TV debate
Public sector staff feel the pinch
WEEK SEVEN
MONDAY, 2 MAY
Final push for Holyrood campaign
Union Terrace Garden debate grows
TUESDAY, 3 MAY
Final days for election campaign
Return to Scottish battleground
WEDNESDAY, 4 MAY
Holyrood battle enters final day
Talking nearly over in Scots election
Election results on BBC Scotland