Scottish election: Headteachers quiz party people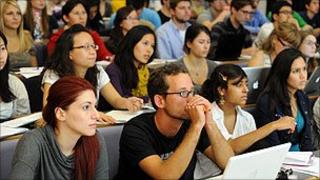 Scotland's headteachers quizzed politicians at a union gathering on the second full day of electioneering.
The four main parties and the Greens put forward representatives to take part in the Educational Institute of Scotland (EIS) Q&A.
Funding, teacher numbers, class sizes and school management were among the topics up for discussion.
The session took place in Edinburgh and was chaired by EIS vice-president Alan Munro.
The panel comprised Mike Russell, the current Scottish education secretary, Labour's Des McNulty, Tory Elizabeth Smith, Margaret Smith of the Liberal Democrats, and the Greens' Robin Harper - the only one of the five not standing as a candidate in the 5 May Holyrood election.
The EIS union manifesto, published in February, called for a better deal for education which it said had suffered through "significant cuts" to school budgets.
The union said it was making a stand for Scottish education in order to protect the country's schools, colleges and universities.
During the last parliamentary session, MSPs reported on the findings of inquiries into local authority funding of education and children's services, and the future structure of state schools.
Holyrood also debated the findings of the Donaldson Review on the future of teacher education prior to dissolution.
The issue of funding was also a key issue for Higher education students, who this week marched to the Scottish Parliament in protest against cuts to universities.