Scottish election: Campaign beings in wake of Budget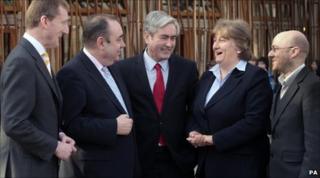 Scotland's political parties have gone into full election campaign mode the day after the chancellor's Budget.
Labour launched its manifesto for business, while the Tories carried out constituency-level leafleting.
The Liberal Democrats concentrated on their fish action plan and SNP leader Alex Salmond was visiting West Lothian alongside party candidates.
The Scottish Green Party launched its election campaign in Edinburgh.
Co-convener of the Greens Patrick Harvie said that this election was crucial for Scotland and it would "answer some very important questions about the country's future".
Calling for a tax system to allow local authorities to raise more of their own cash, as well as a business sector levy, he said: "Even within devolved powers we have the ability to take progressive alternatives, making sure that wealthy people pay more, poorer people pay less and the business community pays a fairer contribution to the public services that we all depend on."
Meanwhile, Scottish Labour leader Iain Gray said an economic cabinet with trade union and business membership would be at the "heart" of a Labour Scottish government.
He added that the body would take an overview of its work as part of the party's "manifesto for growth".
Tough times
Mr Gray said: "I want businesses large and small to know that Scottish Labour understands their needs, that Scotland is open for business, and that Labour will work in partnership to deliver economic growth and jobs for Scotland."
Mr Salmond was visiting Linlithgow and Livingston, where SNP candidates Fiona Hyslop and Angela Constance are standing.
The party also called on Scotland's businesses to protect the small business bonus scheme, which it said had slashed or abolished rates for some 80,000 small firms and local employers, during tough economic times.
The leader of the Scottish Liberal Democrats, Tavish Scott, and the party's Edinburgh North candidate, Dan Farthing, cancelled plans to attend the daily fish market in Newhaven, Edinburgh.
However, the members of the party launched their campaign by visiting towns across Scotland to gather support.
The Scottish Tories, including party leader Annabel Goldie, were taking to the streets, leafleting members of the public and speaking to them about Chancellor George Osborne's Budget.
A spokesman said: "Our local campaign starts with delivering our Budget message - it's good for Scotland and good for Britain."