Scottish election: Shopping wars hit rural Scotland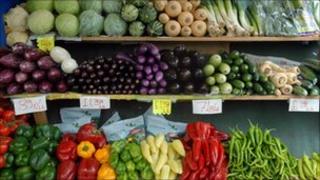 As the Holyrood election campaign gets under way, BBC Scotland's Good Morning Scotland reporter Kevin Keane continues his journey to find out what matters to ordinary members of the country's electorate.
We often hear of communities like Inverness being dubbed "Tesco towns".
Well, I think I may have found somewhere with supermarket envy.
A campaign is under way in Portree, on the Isle of Skye, to bring Tesco to their town.
Some traders are even backing the call saying there's no competition from the Co-operative which has three stores on Skye and one in Kyle of Lochalsh.
More than 1,500 people have signed up to a Facebook campaign on the issue. The town has a population of just 2,500.
Trader Christine Campbell isn't worried that a supermarket will take away business.
She said: "I think we have quite a good selection of different things.
"Supermarkets are the same everywhere and if people are looking for something a bit different they generally come down to the village and tourists don't really want to go to the supermarket when they are on holiday."
Neighbour Morag MacIntyre has a different take though, saying her newsagent business would suffer.
She explained: "Well, a big supermarket would basically stock everything we do and they would have free parking where they are.
"That would take people out of the village and it would mean they wouldn't come in here and buy what we have."
Tesco has been trying to build a supermarket on Skye for more than three years.
Resident Alasdair Macleod sometimes brings shopping more than 100 miles (161km) from the nearest big supermarket in Inverness.
Large store
He told me: "I was there at the weekend and did a big shop because you go to the Co-op and spend a fortune.
"You can do a big shop in Inverness and you've got a big basket and you notice there's maybe £40 or £50 difference."
A spokesperson for the Co-operative Food said its two stores in Portree consisted of a large outlet selling a range of products and a smaller outlet where customers could do a quick shop.
The spokesperson continued: "The smaller store was acquired when the Co-operative bought the Somerfield chain, and last year we invested more than £300,000 converting it to a Co-operative Food store and safeguarding all 19 jobs.
"The Co-operative is proud of its long tradition of serving communities on the Isle of Skye, and of providing people with opportunities to shop locally with a wide range of products and good customer service."