Scottish election: Drivers' fears over fuel prices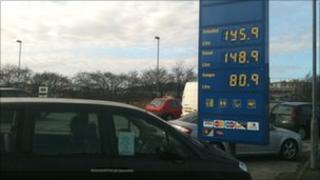 As the Holyrood election campaign gets under way, BBC Scotland's Good Morning Scotland reporter Kevin Keane continues his journey to find out what matters to ordinary members of the country's electorate.
There's no doubt fuel prices are a concern for everyone in Scotland but in the Outer Hebrides the pinch is hurting even more.
The area has some of the highest prices in the UK and that affects many aspects of island life.
Today in Stornoway, unleaded doesn't come cheaper than 145.9p per litre with diesel costing even more.
Taxi driver Barbara Macdonald said: "It's not been under £6 a gallon here for the best part of two years.
"The biggest increase was about a month ago when it went up 15p on the gallon more or less overnight.
"I think if it continues to rise, and they are saying we're going to be paying maybe £10 a gallon by the end of the year, then you'll see a significant reduction in the number of taxis that are sitting here."
She added: "If we have to pay a penalty larger than the rest of Scotland up here then it's going to have a disastrous effect on the island itself.
"So, my message to all the candidates is to lobby parliament and get some kind of concession."
Driver Roddy Macdonald is forthright in his view of who is to blame.
He said: "It's scandalous and daylight robbery and it's not government taxes.
"I've been driving for 42 years and there were quite a lot of filling stations years ago.
"But now there are only three. They've got the monopoly and are charging what they like."
But filling station manager Nicola Lockerby disagrees.
She said: "There's not a great deal of profit in the fuel.
"It's something that draws customers in but we make our money from what we sell in the shop."