Scottish election: Ullapool ferry service fears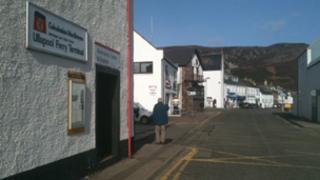 With the starting gun having been sounded for the Holyrood election, BBC Scotland's Good Morning Scotland reporter Kevin Keane continues his journey to find out what matters to ordinary members of the country's electorate.
With only about 1,500 residents, you'd be forgiven for thinking Ullapool was not a major population centre.
This Ross-shire community is surrounded for 40 miles (64km) in each direction by precious little.
What draws people here, beside the natural beauty, is the harbour and its ferry service.
Tourists boarding here will find themselves in the Western Isles less than three hours later.
Shops, restaurants, bars and cafes all rely on this passing trade.
Caledonian MacBrayne operates two boats from the village - a passenger ferry during daylight hours and a freight carrier at night.
The latter is to be retired in two years and no decision has yet been taken about her replacement.
A single larger ferry with higher capacity could attract more tourists but a revamp of the harbour would be needed costing tens of millions of pounds.
Harbour master Kevin Peach says investing in the service is important.
He explained: "The ferry is Ullapool, it's vital to the area and brings in jobs.
"Everything we have in Ullapool is, in one way or another, linked intrinsically to the ferry and without it Ullapool would just be a retirement village."
Local people agree.
Lesley Spencely, who runs the Tea Store Cafe, says: "It's massively important, especially in the summer months.
"We rely heavily on the tourist trade and people coming for breakfasts prior to going on the ferry."
Along with the usual issues, people here will be watching events at the quay side with great interest.