RAF air base closures: Locals discuss political fight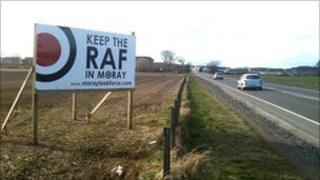 With Scotland's Holyrood election a little over six weeks away, BBC Scotland's Good Morning Scotland reporter Kevin Keane begins the first stage in his journey to find out what matters to ordinary members of the country's electorate.
As another term draws to a close at Holyrood, the hardest task of them all is about to begin for politicians.
The job is convincing you to give them your cross.
But in some parts of Scotland that effort has already been under way for several months.
Most notably in Moray, representatives from all parties have been fighting the good fight for the local air bases.
RAF Kinloss has already been earmarked for closure with the threat hanging over neighbouring Lossiemouth.
Teams from the latter are currently preparing for military action in Libya.
It has definitely created an interest in politics - with a small p - in the local area, but many would deny it.
Homes and shops bear posters shouting "hands off our air bases" and a giant version greets drivers entering Elgin from the east.
Pizza restaurant owner Oriano Marchi said: "We get a lot of trade from the bases, particularly in the summer time when they have their exercises on.
"I'm not really politically minded but I've taken an interest because I'm a business owner and it's going to have an impact.
"Because it's hitting people more personally, they probably will take more of an interest in the election."
Faiz Resul, who runs a clothes shop in Elgin, said the forthcoming election has forced politicians to back them.
He added: "I think people could see there was a political momentum to keep the bases open.
"We knew straight away that coming into the May election it would be an important issue.
"But personally I feel a lot of the parties were coming up just to show face, to show they were supporting us so come election time they could say they were up here campaigning."
Graham Flett, who works in his family run music shop, has an even more cynical take.
He commented: "I think it's made people more aware of some of the issues, but to be honest I think it's also shown that no matter what people do politicians have [already] made their mind up."