Former Tory MSP Phil Gallie dies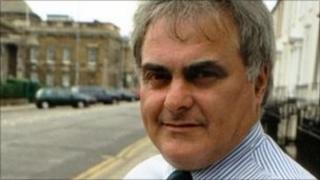 The former Conservative MSP and MP, Phil Gallie, has died at the age of 71.
Mr Gallie, who represented the South of Scotland for eight years at Holyrood from 1999, also served as MP for Ayr from 1992 until 1997.
He missed out on the Tory leadership to David McLetchie, but went on to serve on the party's front bench and several parliamentary committees.
Mr Gallie, who died suddenly on Monday night, had continued to take a very active role in politics.
Paying tribute, Scottish Tory leader Annabel Goldie, said: "Phil was that rare breed of politician - admired by friend and foe alike and a tireless advocate for the people of his beloved Ayr, his party and Scotland.
"No one who knew Phil will ever forget the passion and enthusiasm he brought to everything he did."
Miss Goldie added: "He leaves a gap in our lives. I have lost a friend and Scotland has lost a shining example of a true public servant, someone who cared deeply about people and loved his country."
Born in Portsmouth and schooled at Dunfermline High School, in Fife, Mr Gallie cited Margaret Thatcher as one of his main political influences.
His political base was in Ayrshire, where he first took office as a local councillor in Cunninghame.
'Common touch'
At the 1992 UK election, voters in Ayr sent him to Westminster and he served for five years, until Labour took the seat.
With the Tory party in turmoil at Westminster, Mr Gallie set his sights on Holyrood where he was elected in 1999, serving as home affairs spokesman.
Mr Gallie, who trained as an electrical fitter at Rosyth dock yard and later served in the Merchant Navy, went on to serve on several Scottish Parliament committees, including Europe and justice.
A well-liked figure at Holyrood, the politician caused some controversy in 2002 when he refused to officially declare his long-standing membership of the Freemasons, claiming it did not impact on his actions in parliament.
Mr Gallie - who once got stuck in a lift during a 2004 visit to the Scottish Parliament building site - stepped down from Holyrood in 2007 in the hope of becoming an MEP.
Although his bid for Brussels was not successful, he remained active in politics, and was gearing up to play a key role in his party's AV referendum campaign when he died.
Also paying tribute, Scottish Labour leader Iain Gray, said: "Phil was a decent man with the common touch who made a spirited contribution to politics."
First Minister Alex Salmond, added: "Phil was always a lively, energetic and high-profile parliamentarian, both at Westminster and Holyrood, and was well-liked by colleagues across the political spectrum."
Scottish Liberal Democrat leader Tavish Scott, said: "Phil Gallie was a doughty fighter for the political values he believed in and for Ayrshire."
Mr Gallie is survived by his children, Kirsteen and Craig, and grandchildren.