Call for Scots large retailer tax review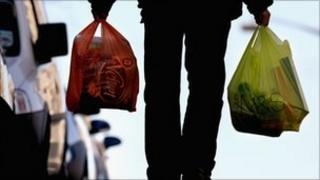 Plans to impose additional business rates on large retailers could be scrutinised by a government-appointed body chaired by a critic of the tax.
The Conservatives have written to the Regulatory Review Group asking it to investigate the Scottish government's plans for a Large Retailer Levy.
It is chaired by Prof Russel Griggs of the CBI, which signed a joint letter calling the levy "counter-productive".
Meanwhile, retailing giant Kingfisher said the tax would put jobs at risk.
The government said the tax would only affect about 0.1% of businesses.
A spokesman said in contrast about 60% of businesses had rate discounts as result of the government's £2.4bn rates relief package.
However, Conservative enterprise spokesman Gavin Brown said higher taxes for the largest retailers would make Scotland less competitive than the rest of the UK.
"The SNP government is putting investment and Scottish jobs at risk," he said.
"To add insult to injury, the SNP government failed to conduct a Business Impact Assessment before publishing the regulations.
"Alex Salmond and the SNP pretend they are a low tax friend of business, but the truth could not be more different."
Group letter
The government has stated that a full Business and Regulatory Impact Assessment (BRIA) would be inappropriate for a regulation that affects just 0.1% of businesses.
However, Mr Brown called this decision "highly questionable" in light of the "substantial" costs to big businesses.
Ian Cheshire, the chief executive of Kingfisher, which owns DIY chain B&Q, said his area was one of the few which was creating jobs and investing in Scotland.
He told BBC Scotland's Politics Show: "Most retailers, once we've paid our taxes, make about four or five per cent in every pound, so actually if you're taking an extra chunk - potentially about £30m coming out of that profit - and we're going to have to find it from somewhere else.
Mr Cheshire added: "There is a sense the big guys have got 'lots of money'. Actually we all make very tight profit margins and we employ thousands of people, and, frankly, this tax will put those jobs at risk."
The CBI signed the Tories' letter criticising the tax alongside Scottish Chambers of Commerce, the British Council of Shopping Centres, the Scottish Property Federation and the Institute of Directors.
However, the group also includes a representative from the Federation of Small Businesses (FSB), which supports the levy due to its potential to "level the playing field" between the largest retailers and the smaller independent stores.
A Scottish government spokesman said it was reasonable to ask a small number of the very biggest retailers to pay extra, and was an alternative to penalising families "by raising council tax or reducing business relief schemes".
"The UK government has cut our budget by a massive £1.3bn - so we need to find new ways of raising a moderate level of extra revenue," he said.