Swinney calls for fuel duty regulator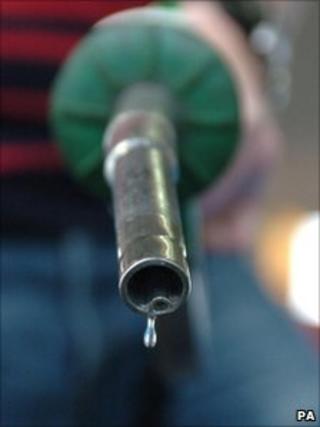 Finance Secretary John Swinney has written to the UK Chancellor calling on him to tackle rising fuel prices.
In a letter to George Osborne, Mr Swinney urged the UK government to set up a fuel duty regulator.
It would mean a reduction in duty at times of high oil prices - matching the extra revenue from VAT generated by higher pump prices.
Mr Swinney said it was unacceptable that "energy-rich Scotland" should have areas facing prices of £1.40 per litre.
He said: "Coupled with the UK government's recent VAT rise, these record fuel costs are putting a huge and unnecessary amount of pressure on our communities and on vital sectors of the Scottish economy, and risk choking the recovery we are building in Scotland.
"With a further rise in duty scheduled for April, Westminster must take urgent action to tackle this."
Mr Swinney said North Sea oil revenues would see the UK government collect about £12bn in tax this year, which could be used to introduce the relief.
He added: "We also believe a discount on fuel duty should be levied in Scotland's rural and island communities - two areas hardest hit by rising fuel prices."
Danny Alexander, the chief secretary to the Treasury, said the UK government was looking into a proposed "fair fuel stabiliser".
He told the BBC's Politics Show: "We recognise that this for many families is a serious issue.
"We are seeking to address that problem by looking at this idea of a fair fuel stabiliser, by taking steps to relieve the burden of fuel costs in the most remote communities."