Blair admits role in 2007 Holyrood election defeat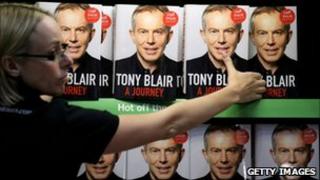 Tony Blair has suggested that Scottish Labour might have won the last Holyrood election if he had not been prime minister and party leader.
The SNP broke Labour's dominance of the Scottish Parliament in 2007, when it won 47 seats, one more than its rival.
In his memoirs Mr Blair said Labour lacked self-belief in the Holyrood campaign but that his own leadership may have cost Labour votes.
Gordon Brown may have been more able to return Labour to power, he said.
In his book, A Journey, the former prime minister said: "With a new leader we could have done better, and in particular it is possible with Gordon we would have won in Scotland.
"Jack McConnell [former Labour leader and First Minister] was loyal and decent enough to deny this to me, but I wasn't sure he meant it."
Mr Brown replaced Mr Blair a few weeks after the defeat.
Mr Blair also used his memoir to voice concerns about the SNP's ability to hold on to power.
He said party leader and First Minister Alex Salmond "would be far harder to remove" than to stop in the first place.
"I knew once Alex Salmond got his feet under the table, he could play off against the Westminster government and embed himself," he said.
Blair, who was born and educated in Scotland, also said Nationalists contrived to make him feel alien in Scotland.
He also described feeling like an "outsider" at the funeral of Scotland's inaugural first minister Donald Dewar because it was a very Scottish affair which was dominated by Gordon Brown.
The Scottish Parliament was established by Mr Blair's government in 1999, but he admitted never being passionate about devolution.
'Exposing feuds'
However, Mr Blair said he thought and hoped it was "the right thing to do".
The SNP's Westminster leader Angus Robertson said the admissions were an embarrassment for current Scottish Labour leader Iain Gray.
"As well as being a disaster for the Labour Party - exposing their internal feuds, splits, and jealousies in full technicolor - Tony Blair's book is also a humiliation for Iain Gray," he said.
"As well as Blair effectively conceding that he cost Labour the election in 2007, he also says that - compared to when the SNP won last time - it will be 'far harder' for Labour to defeat the SNP next year."
You can watch Tony Blair's interview with Andrew Marr on BBC Two on Wednesday 1 September at 1900 BST.