Unemployment in Scotland falls to record low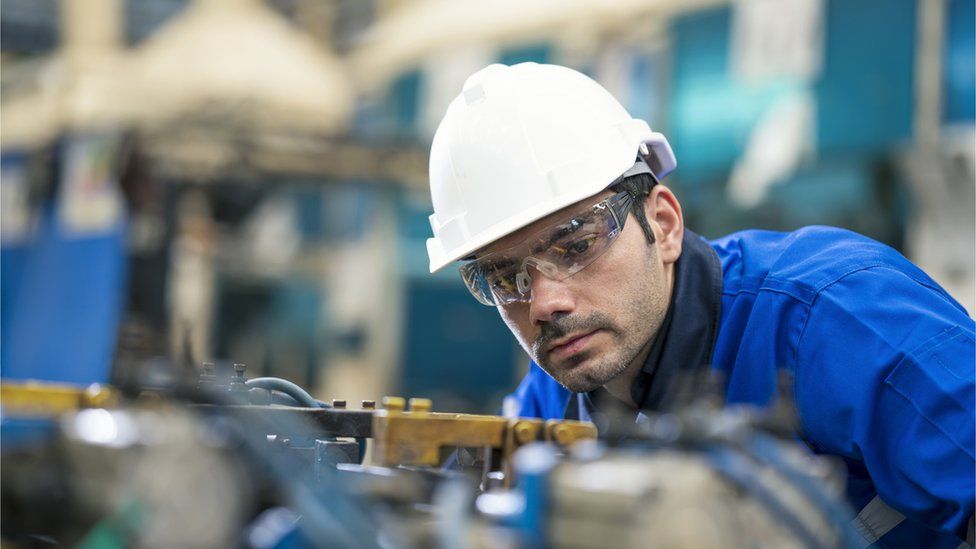 Office for National Statistics (ONS) data showed the unemployment rate for people aged over 16 between January and March was 3.2%, down 0.9% on the previous quarter.
The employment rate for those aged 16 to 64 was 75.6%, an increase of 1.4%.
Across the UK, the employment rate increased by 0.1 percentage points on the quarter to 75.7%.
In Scotland, there were 2.682 million people aged 16 and over in employment between January and March this year, with 88,000 in that age group unemployed.
However, UK wages suffered a sharp fall of 1.2% between January and March.
"There continued to be a mixed picture for the labour market," said the ONS.
Scotland's employment minister Richard Lochhead said: "While we continue to face economic challenges, with the rising cost of living, the negative effects of Brexit and the economic impacts of Russia's illegal invasion of Ukraine, the Scottish government remains committed to doing all we can to help our economy recover."
The UK government's Scottish Secretary Alister Jack said it was good news that even more Scots were back in paid employment, while unemployment had fallen further.
He added: "The economic aftershocks of Covid and the war in Ukraine mean real pressures in the cost of living right around the world.
"The way to tackle this in the longer term is to grow our economy and create high-skilled, high-paid jobs, and we are helping by also providing a £22bn support package, including boosting the wages of the lowest paid and helping people with energy costs."
The ONS says that regular pay rose by 5.6% in the three months to March. But that didn't keep up with inflation, which is running at 7%. So for a typical worker across the UK, take-home pay will not keep up with this rise in the cost of living. So household budgets get squeezed once bills are paid, people have less disposable income and harder choices about where to spend money.
At the same time, unemployment continued to fall in Scotland to 3.2% of the workforce. That is less than for the UK as a whole and lower than it's been for decades. Across Scotland, 88,000 are out of work and looking for a job.
The employment rate also rose slightly, a sign the jobs market remains buoyant in spite of other challenges facing the economy. The total number of people working in Scotland has risen to 76% of the workforce and the number of people who are economically inactive - those of working age who are not working - has fallen, but is still higher than it was in the pandemic.
There are a raft of workers across the UK, half a million strong - and mostly over 50 - who have stopped working since the start of the pandemic and show no signs of returning to work, so all those skills and abilities are currently lost to the economy.
Things are not as good as they could be. We have got high inflation and the Bank of England is predicting it will rise to 10% this year. Part of that is rising energy prices and also rising food prices. Add it all up and it looks like a very challenging year ahead. It looks like the UK economy may shrink further and we may enter a recession.
So far we have not seen a dramatic impact on jobs because unemployment remains low, but that may change in the coming months as employers are hit by all these forces beyond their control.
Dr Stuart McIntyre, from the Fraser of Allander economic institute, said the Scottish labour market was back to its pre-pandemic levels in a number of ways.
He said: "Rates of employment, economic inactivity and unemployment are in line with - or slightly better than - where they were at the same point in 2019.
"The big challenge remains weak pay growth, and in turn the cost-of-living crisis facing families across the country.
"After we take account of rising inflation, average pay across the UK fell 1.2% over the past year.
"It is only when we include bonus payments that inflation-adjusted pay grew over the past 12 months."
Dr McIntyre added: "Bonus payments are becoming an increasingly common feature of the job market at the moment as businesses across the economy compete for workers by offering joining bonuses, but what matters for living standards over the longer term is growth in regular pay."
Related Internet Links
The BBC is not responsible for the content of external sites.