Bakkafrost: Owner of Scottish Salmon Company pledges £700m investment
By Douglas Fraser
Business and economy editor, Scotland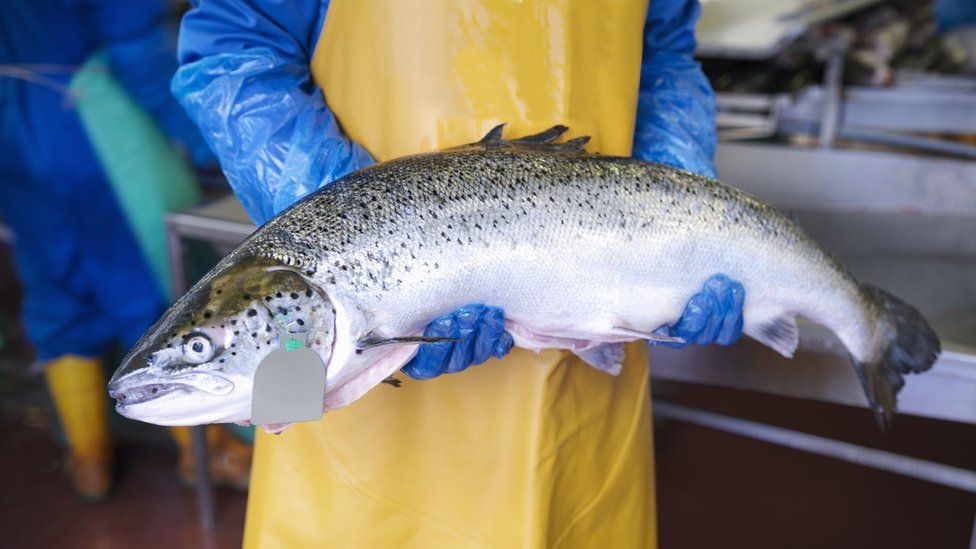 The Faroese company that owns one of Scotland's largest fish farm firms has pledged more than £700m investment for a major shift in the way salmon is produced.
Bakkafrost's five-year plan for The Scottish Salmon Company is intended to raise production by 40%, without acquiring new licences.
Its site at Applecross in Wester Ross will be expanded at a cost of £49m.
There will also be a new large onshore production site.
These will use recirculating aquaculture systems (RAS), with renewable energy and recycling of waste.
The change will see salmon smolts grown for a longer period in tanks and transferred to seawater at a later stage of their growth, when they weigh around 500g (18oz).
It is claimed they can reach 5kg (11lbs) after a further 12 months, being exposed to the risks of only one summer and early autumn.
The current system typically sees smolts put in the sea pens at 100g (3oz), and they then take 22 months to reach 5kg.
The change to older fish in cages is intended to improve their resilience, health and growth, and reduce the effects of disease and sea lice.
Most fish farms in Scotland have had significant problems with fish infections or lice. Once detected, they force fish farmers to harvest their salmon at a younger age and before they reach their maximum size.
Sea loch cages, under Bakkafrost's plan, are to be used more efficiently, making fuller use of licence capacity, and keeping fish in them for shorter periods.
They are likely to be moved from shallow waters to more exposed locations, which may lead to a higher capacity being allowed by regulators.
Its sites are focussed on the Outer Hebrides, Wester Ross and Loch Fyne. There are smaller numbers of cages off Skye and Mull.
The Faroese company, which bought the Scottish Salmon Company last year, also plans a Scottish processing plant, to improve the value of its premium products and to back its brands, including Native Hebridean and Lochlander.
A site has not yet been identified but it is planned for a quayside location closer to market and that reduces travel on what the company describes as "unreliable roads", while reducing stress and damage to fish.
Following the example of its flagship harvest and processing plant in the Faroes, this is to be highly automated.
A statement for investors said the plan was carefully geared to improve returns from its Scottish subsidiary. Investment will be focussed on the earlier stages of the 2022 to 2026 plan, and results should be clear in the later stages.
It said the £711m (6.2bn Danish Kroner) investment programme would be "transformational for its Scottish operations and aims to become the most sustainable and profitable in the Scotland, where it has underperformed in the past".
Compared with other nations' salmon farming, Scottish licences are limited by the relatively low maximum level of fish permitted on each site.
This could be increased under new conditions that allow companies to shift cages into more open water, at increased risk from weather damage.
The Bakkafrost plan seeks to get more out of its new Scottish asset by increasing onshore capacity in tanks, with each salmon spending less of its life in a sea cage.
Its experience in the Faroes has been improvement of the conversion rate of fish feed to salmon production, making its own fish feed, with reduced outsourcing of operations.