ScotWind offshore wind auction attracts 74 bids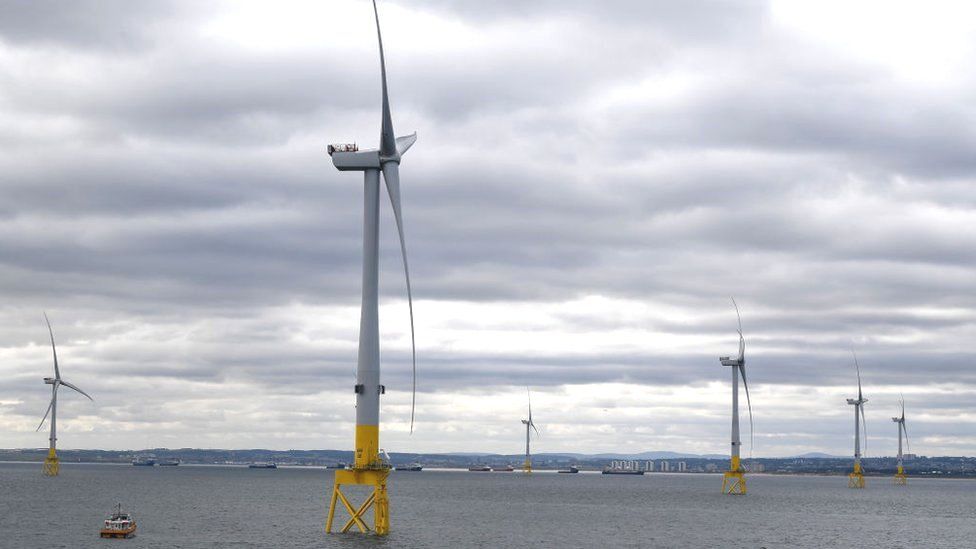 More than 70 bids have been lodged by developers seeking the rights to develop major offshore wind projects on the seabed around Scotland.
The ScotWind leasing auction, which is being overseen by Crown Estate Scotland (CES), is the first of its kind for a decade.
The auction, which closed to bids on Friday, covers 15 areas of seabed.
They include areas of the North Sea to the east of Angus, the outer Moray Firth, west of Orkney, east of Shetland and north-west of both Lewis and Islay.
CES said it was hoped that as much as 10GW of new generating capacity could be built over the next decade as a result of the project - enough to power every home in Scotland.
The auction could net the Scottish government up to £860m.
CES aims to make initial offers to successful applicants in January of next year.
Agreements will then be finalised before developers can move forward with detailed plans.
Colin Palmer, director of marine for CES, said: "The high number of applications from developers shows just how much potential Scotland's seas hold for the future expansion of offshore wind.
"There is now a huge amount of work to do in assessing every application thoroughly and fairly so that the strongest projects go through to the next stage in helping to power Scotland's energy sector towards a net-zero future."
The Scottish government has set a target of reaching net-zero emissions by 2045.
Reacting to the CES announcement, Scottish Renewables tweeted: "Results show worldwide interest in ScotWind Leasing - industry now awaits outcome with real sense of urgency to get the job done."