How much do we care about those who need care?
By Douglas Fraser
Business and economy editor, Scotland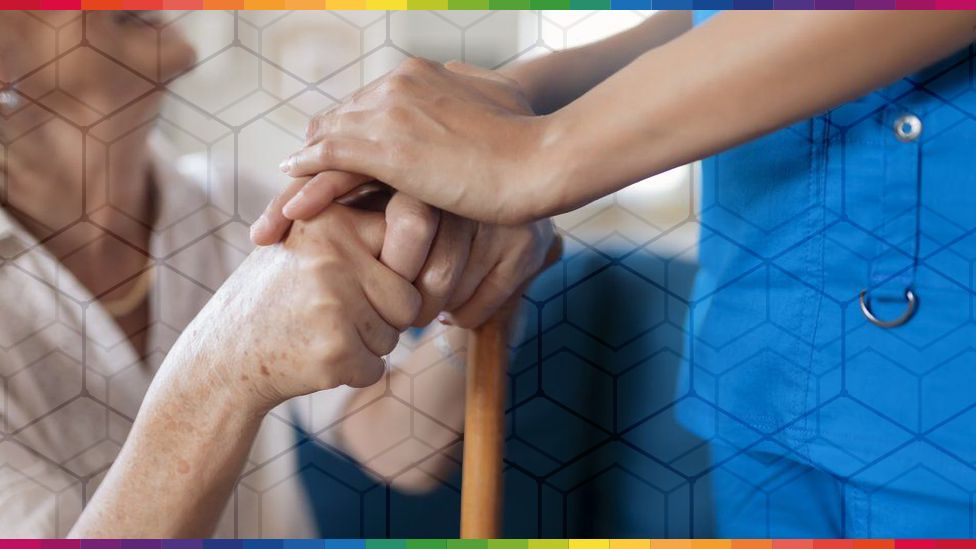 How much do we care about those who need care?
A lot, according to the parties fighting the Holyrood election.
The plight of people living and dying in care homes, needing home care and those who provide it have focused attention on the sector. And demographic pressures are growing.
One of the answers in party manifestos is the promise of a National Care Service. What does that mean, what would it look like, what would it cost, and what are the downsides?
One in 24 Scots relied on some form of social care support and services at the start of 2018.
Some 68,000 required care support at home, apart from informal, unpaid care, often by family members. Care homes housed 34,000 people.
However, they were the ones lucky enough to get the services. The criteria for qualifying has been toughened in recent years.
Scottish government modelling looked at the number getting care support in 2010, and the number that could be expected to be requiring it nine years later. It suggests 36,000 Scots were not getting the care support that would benefit them.
That's a measure of how much tight funding, with inconsistent application of rules across councils, have squeezed people out of the system.
How much more need will there be with the growth in the number of older people requiring care through demographic change and longer lives? A calculation for England is of 3.7% growth per year to 2040, from £8.5bn to £18.7bn.
The Alzheimer's Society reckons numbers afflicted will nearly double by 2040 to 1.6m, taking overall costs to £94bn, and the cost for UK social care nearly tripling to £45bn.
Isn't there already free personal care for elderly people?
One of the oft-cited achievements of the early years of the Scottish Parliament was that it defied warnings and resistance from London, and introduced free personal care, as well as nursing care, for those assessed to need it.
The Scottish government funds councils to pay out a maximum fee per week. That is currently no more than £280.50.
It falls short of the actual cost of the service people need. Although it was raised by more than inflation this year, that follows several years of a squeeze below inflation.
What's wrong with the current system?
Analysis of the data available, points to no difference between Covid mortality from council, private or third sector care homes.
Some, including trade unions and ministers, proposed nationalisation of care homes.
Derek Feeley concluded there was no evidence that nationalisation would improve quality, as well as being unaffordable and time-consuming.
Are care workers under-valued?
Applauded by the public in the past year, those working in care are generally on low pay.
The Feeley report identified the problem of "casualisation", often because workers pick up odd hours.
The review found people who were proud of the work they do, and committed to it. But the workforce lacks career progression, staff turnover is around 30% per year, and it is 83% female. The report's author observes: "Were it 83% male, it simply would not be marginalised and under-valued as it is".
For residential care homes, the National Care Contract, negotiated each year, is calculated by local authorities on the basis that private and third sector care home operators will pay their staff close to minimum wage.
Council-run homes pay union-negotiated rates, with more generous conditions, staffing levels and pensions than the same councils are willing to pay private contractors.
That helps explain several decades of the public sector pushing more of its social care obligations into the private sector. It's cheaper, because the staffing is cheaper, and councils negotiate to keep it that way.
SCOTLAND'S ELECTION: THE BASICS
What's happening? On 6 May, people across Scotland will vote to elect 129 Members of the Scottish Parliament (MSPs). The party that wins the most seats will form the government. Find out more here.
What powers do they have? MSPs pass laws on aspects of life in Scotland such as health, education and transport - and have some powers over tax and welfare benefits.
What would a National Care Service look like?
The concept sounds attractive in a country where the National Health Service has been described as a sort of national religion.
According to the Feeley report: "We need a National Care Service to achieve the consistency that people deserve, to drive national improvements where they are required, to ensure strategic integration with the National Health Service, to set national standards, terms and conditions, and to bring national oversight and accountability to a vital part of Scotland's social fabric.
"The National Care Service will bring together everyone with a role to play in planning and providing social care support to achieve a common purpose."
The national elements would include collective pay settlements for care workers, efforts to share best practice across the country, and central support for those with specialist needs.
Budgets would be set by the Scottish government, and not by local authorities or health boards. Care home operators would be required to meet national standards, and could be told to reinvest excess profits.
That vision has some politicians - including a lot of local councillors - concerned at the implied centralisation, stripping power out of councils.
Anticipating a fudged compromise with councils, 25 organisations involved in social care are writing an open letter this weekend urging candidates to stick to a national plan and standards.
But what about choice? In the NHS, you see the medic you're allocated at the clinic you're told to attend. What if residential care was allocated in the same way? No-one is suggesting that, yet.
The implied copying of the NHS model would suggest that a new National Care Service would be delivered free at the point of need.
That is unlikely to extend to the cost of accommodation, where people have the assets to pay towards bills.
Representing private sector care homes in the Care Scotland organisation, chief executive Donald MacAskill welcomes the prospect of more transparency to pricing.
He says councils will be shown up for the £1,300 to £1,400 per week they pay their own care homes for looking after residents, while paying private companies £760. With actual costs of £900 to £1,000 per week, state-funded people are subsidised by self-funders.
The Feeley review calculated a further £660m per year would be required to pay for its plan, at current prices.
That sounds a game-changer, but Donald MacAskill says it would not match the need, pay residential costs, invest in innovation, or catch up on maintenance backlogs.
Would people going into care homes have to sell their homes to pay for that?
This is an emotive issue. There was a misconception with the 2002 legislation on Free Personal Care that people would no longer have to sell their homes to pay for residential care. It was never that simple.
In Scotland, those with assets, including a home, have to keep paying until the asset total falls below £28,750.
Being more generous would be a subsidy to middle-class offspring of those in care homes, argued Prof June Andrews, retired Stirling University professor of dementia studies.
She observes the direction of travel at Holyrood is to remove means testing for this and other provision when other countries are doing the opposite and when universal provision looks unaffordable. And she predicts the affluent offspring of those in need of care may have to pay, when parental funds have run out.
The Feeley review suggests a range of new tax sources could help pay for the higher bills, but doesn't address the question of how much individuals should contribute.
Among possible solutions is social insurance. This would add to working people's tax bills, and pay for those who go beyond the average 20 months spent in a care home at a cost of between £35,000 and £50,000 per year.
Whitehall has been facing the same challenge, though with a more fragmented care system across English local authority areas.
Boris Johnson promised a "once and for all" solution, but progress appears to have stalled.
The issue featured in the 2017 election campaign. Tory leader Theresa May wanted to reduce liability for those with assets, proposing that the state would pay any bills above around £100,000.
Its presentation was cack-handed, it got mangled in the electoral melee, and it was shelved.
Looking at care differently
Derek Feeley's review reflected the views of many in the care sector who think we talk about it the wrong way round.
Instead of social care being described as a burden on society, he says it should be seen as an investment.
Instead of "managing need", he favours "enabling rights and capabilities".
Instead of designing care to be available in a crisis, it should be "preventative and anticipatory". And instead of shaping the system through transactions, we should talk about relationships.
What are the parties offering?
The Scottish Conservatives argue for higher-quality care and improved employment conditions. They believe "a one-size-fits-all approach would not work for Scotland's communities", preferring to retain local control
The Scottish Greens want a national care service, with local decision-making and accountability, which ends competitive tendering and removes the profit motive from care services. Pay would go up to at least £15 per hour. Eventually, they would remove the private sector.
Scottish Labour says it proposed a national care service before others. It no longer favours nationalisation of care homes. Hourly pay for care staff would rise immediately to £12, then rising to £15.
The Lib Dems believe a national service would divert resource from care and lose local links. However, they want national care standards, pay settlements and fair work conditions, scrapping charges for care at home.
The SNP plans a national care service, legislated in year one, operational by 2026, backed by a 25% increase in spending, "more than £800m increased support", providing services "on a truly universal basis, free at the point of use".