Covid in Scotland: 'Encouraging signs' of shoppers' return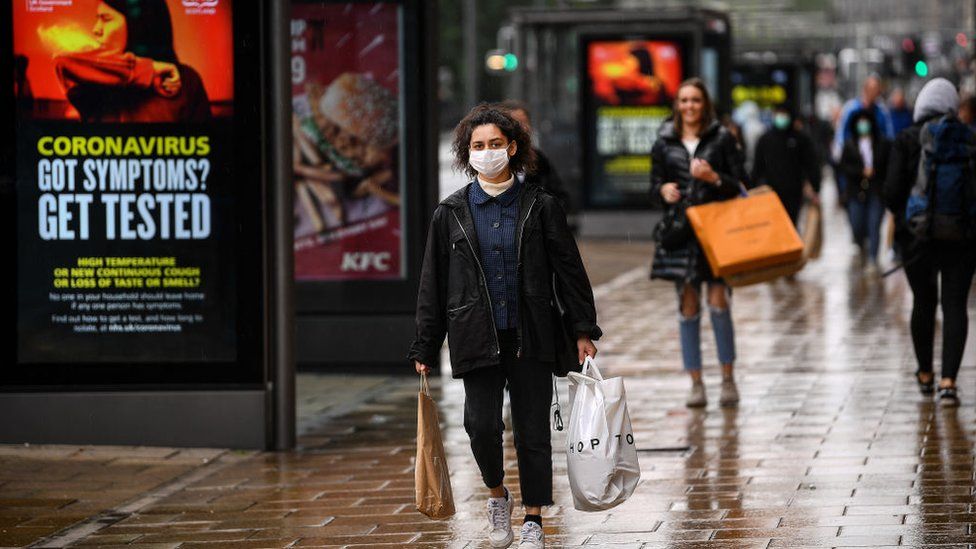 There are "encouraging signs" that consumers are preparing to resume shopping when the lockdowns finally end, according to retailers.
The Scottish Retail Consortium's comments came as it reported a slowdown in the decline of sales last month.
Total sales fell by 13.8%, compared with March 2019 - the smallest drop seen in recent months.
However, SRC warned the future of physical stores was at risk if people did not return to shops post-lockdown.
The latest SRC-KMPG sales monitor - using comparisons from two years ago, given the disruption caused by the pandemic in 2020 - showed total food sales were up by 19.7% on March 2019.
SRC attributed that in part to Easter falling in March this year rather than in April 2019, with Easter eggs in particular selling "very strongly".
Non-food sales continued to be weak, falling by 49.2% on March 2019.
But SRC noted that strong online sales of children's clothes in response to schools reopening indicated there may be better news ahead when people can leave their homes for non-essential reasons.
SRC head of policy Ewan MacDonald Russell said it was "hardly surprising" that sales were down, with most shops shut for the crucial run-up to Easter, but added there were "some encouraging signs" that shoppers were preparing to resume shopping.
"As we move further into the year the two big questions will be whether retail sales bounce back due to pent-up demand with the end of lockdown, and where that uplift in retail sales is sustained rather than merely temporary," he said.
"So far this year the majority of non-food sales have taken place online.
"If that doesn't change and people don't return to the shops it will pose very significant questions for the future of physical retail stores, and in turn for the state of our retail destinations, local communities and tax revenues from business rates."
KPMG's UK head of retail, Paul Martin, said: "The next few months will be make or break for many retailers as restrictions ease and consumer confidence hopefully returns."