Brewdog reveals plans for beer-themed hotel in Edinburgh
By Douglas Fraser
Business and economy editor, Scotland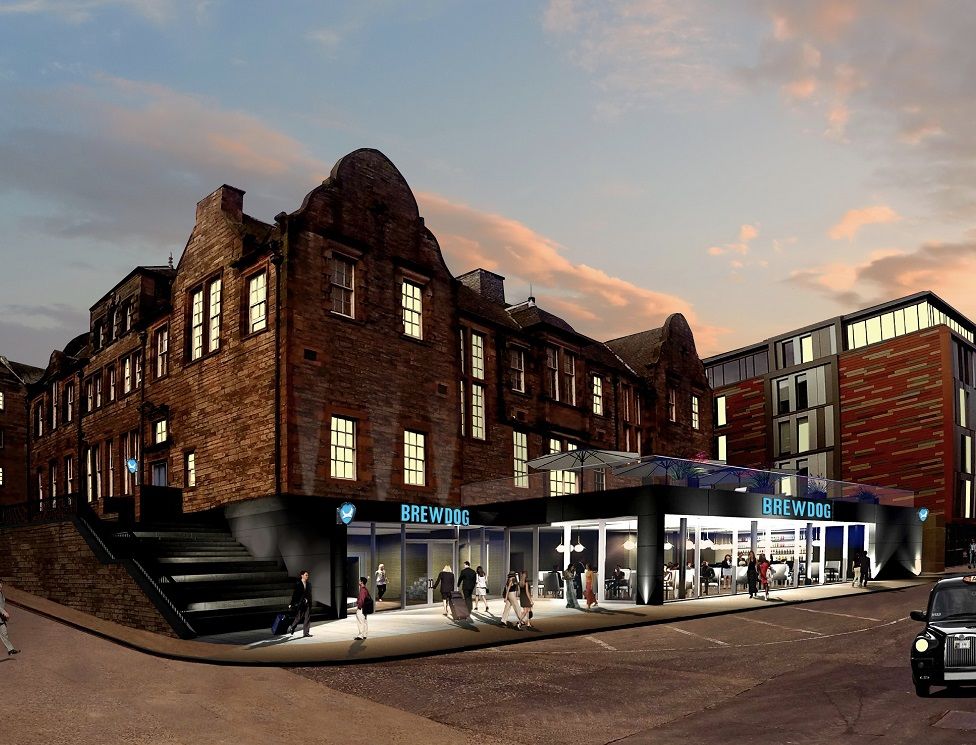 Brewdog, the Scottish brewer and pub chain, has announced plans for a beer-themed hotel in Edinburgh's Old Town.
The Doghouse-branded boutique hotel will be in a former school opposite the city council headquarters on Market Street.
"Expect beer on tap in all the rooms, mini-bars filled with the best beers in the planet and fridges in the shower for shower beers," co-founder James Watt said.
It is expected to open later this year.
The Aberdeenshire-based firm already operates a hotel next to its brewery in Columbus, Ohio, and another is due to open in Manchester.
Shareholders at Brewdog's annual general meeting on Saturday were given a hint of its plans for the Scottish capital, before Mr Watt's tweet confirming the details.
The conversion of the building in Market Street has been under way for the past five years and was originally intended for another boutique hotel operator.
The brewer, which has its headquarters in Ellon, told shareholders of strong results in its most recent annual figures, despite more than 100 bars being closed for parts of the year.
It was helped by a 13-fold expansion of online sales between 2019 and 2020.
Revenue was up 11% to £238m, and production volume was up 32%, reaching 242m cans shipped. That was helped also by expansion of its distribution through UK retailers, with sales through groceries up by around 50%.
Its pub chain is being extended to Las Vegas, Atlanta, Lyon and Milan. Three further outlets are due to open for the first time today in southern England, as Covid-19 restrictions are eased.
"Equity for Punks" shareholders, many of them investing as crowdfunding beer enthusiasts, were told the firm is looking to open a brewery in France, in addition to those in Germany, the US and Australia.
During 2020 and still continuing, another round of crowdfunding has raised capital to improve the company's environmental performance, using wind power at its Ellon brewery, installing an anaerobic digester for wastewater, recovering carbon dioxide from fermentation to carbonate beers, and investing in electric vehicles.
Its production of Lone Wolf gin is being expanded with enlarged distilling capacity.
It is claimed that the funding round has added more than 54,000 investors, taking the total close to 180,000. It has raised more than £22m, and aimed at a total £25m.
James Watt commented: "BrewDog was founded to change the world of beer, putting purpose and the planet before profit. This year has been one like no other, but that's not stopped us pushing forward with our commitment to doing business for good, and continuing our fight against climate change.
"The support for our initiatives across the business is a sign that our customers want to be part of something better, and to be part of the change the world so badly needs".