Strike action begins at Clyde nuclear naval bases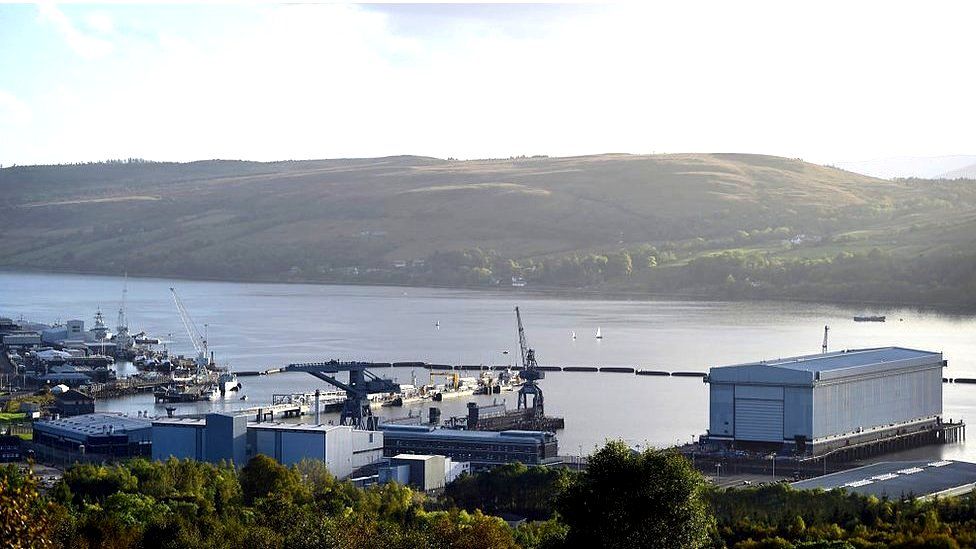 Hundreds of civilian workers at the Coulport and Faslane naval bases on the Clyde have started strike action in a row over pay and bargaining rights.
Those taking action include electricians, mechanical fitters, plumbers and joiners who work for defence contractor Babcock Marine.
Unite members at Babcock Marine voted by 95% in support of strike action on a 65% turnout.
HMNB Clyde is the Royal Navy's main presence in Scotland.
It is home to the core of the submarine service, including the UK's nuclear deterrent, and the new generation of hunter-killer submarines.
As well as the "rolling" strike action among Babcock workers, there will be a continuous call-out ban and ban on all overtime.
Babcock said it was "disappointed", adding that it remained "keen to try to find a mutually acceptable resolution".
Unite said workers had already rejected a pay offer of 1.1% for 2020.
For 2021 and 2022, the offer was based on the consumer price index, plus 0.5%.
Unite regional coordinating officer Stephen Deans said the strike action fell "fully on the shoulders of Babcock Marine management".
"Unite representatives have for a number of weeks sought to resolve this dispute," he said.
"However, the company has taken the deliberate decision to escalate this dispute by refusing to meaningfully engage with us on pay and the future workplace relations at the bases."
In a statement, Babcock said it was "deeply disappointed" that some union members at HNMB (Her Majesty's Naval Base) Clyde had chosen to take action over a pay claim, "when we have been clear that we are keen to try to find a mutually acceptable resolution".
The company said: "We increased our offer during talks with Unite at the Advisory Conciliation and Arbitration Service (ACAS) and believe this is a very fair pay deal that is higher than the rate of inflation.
"The dispute also includes a matter concerning trade union collective bargaining linked to an ongoing Ministry of Defence procurement process that Babcock has no ability to influence."
It added: "We remain focused on delivering the safe, secure operations that our team at HMNB Clyde are renowned for and are keen to keep talking to all stakeholders in order to resolve this dispute as quickly as possible."