Unemployment in Scotland higher for men
The unemployment rate in Scotland is higher for men with almost 5% looking for work from July to September, figures show.
The rate for women is 4.2% while the overall rate in Scotland remains steady at 4.5%, according to the Office for National Statistics (ONS).
Employment rose slightly to 74% over the quarter.
The Scottish government said the figures still did not reflect the full impact of Covid-19 on employment.
HMRC estimates show that the number of people on payrolls in Scotland is down by more than 3% on October last year.
The ONS survey data is from the period when businesses were allowed to reopen following the UK lockdown.
The number of people in work across the UK fell by 247,000, the largest annual decrease in more than a decade, the ONS said.
Furlough extension
In Scotland, 126,000 people were looking for work over the three months.
Business Minister Jamie Hepburn said estimates showed there were 2.3 million payrolled employees in Scotland, a fall of 3.1% compared with October 2019.
"I welcome the chancellor's positive but long overdue announcement last week that he will extend the Job Retention Scheme until March 2021," Mr Hepburn said.
"We repeatedly urged the UK government to safeguard jobs by guaranteeing that this support would be available for as long as employers need it.
"However, I am aware that some businesses will have already taken the difficult decision to make people redundant because of the unnecessary confusion caused by the UK government and the expectation that the furlough scheme would be withdrawn."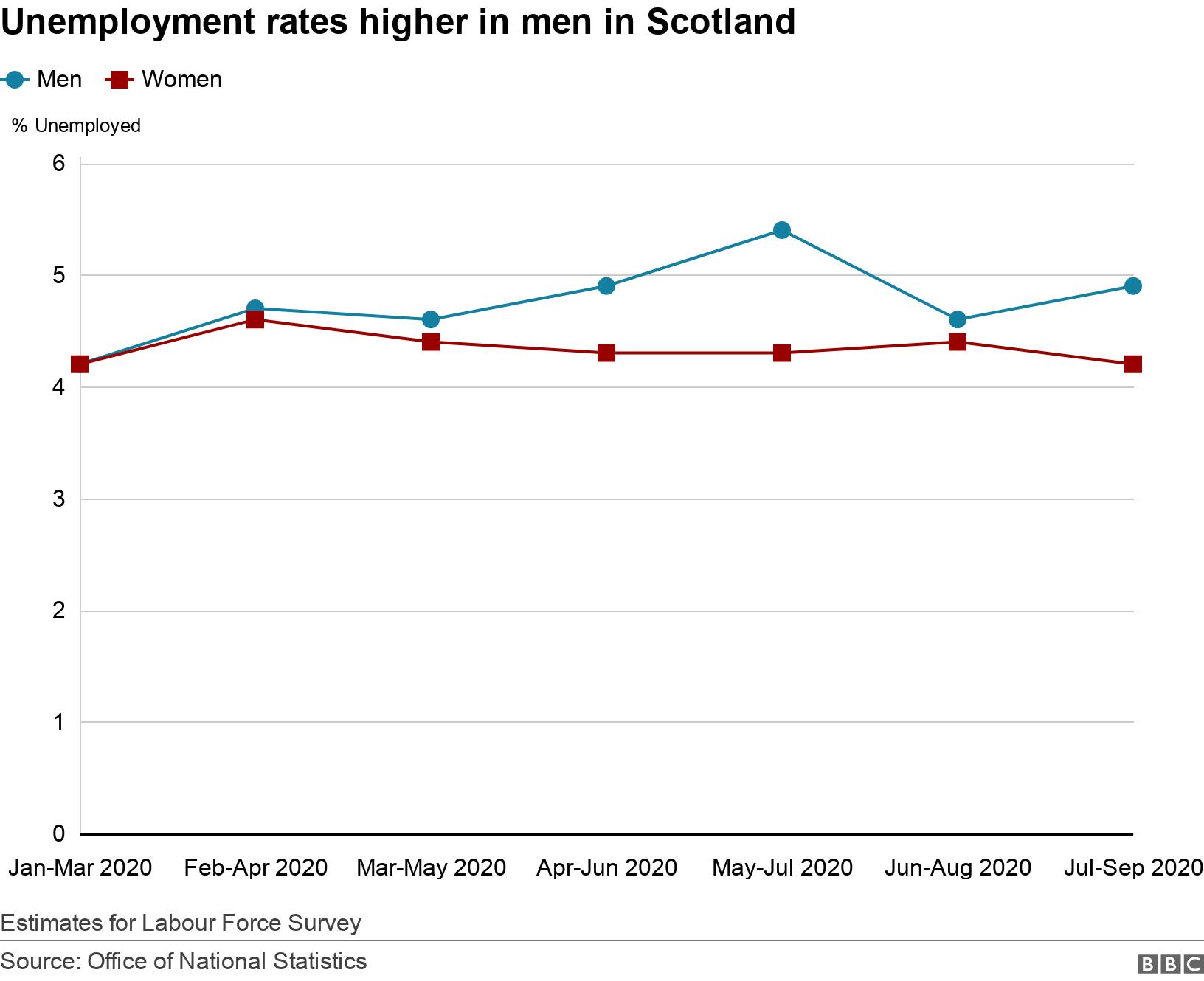 Scottish Secretary Alister Jack said there would be "further challenges" for Scotland over the winter, despite the "apparent stability" in the latest figures.
"The UK government continues to take unprecedented action to support jobs," he said.
"Last week the Chancellor extended the UK government furlough and self-employed support schemes, alongside an additional £1bn in Barnett Consequentials for the Scottish government."
The Federation of Small Businesses said the Scottish jobs figures disguised the trouble that many firms were in.
Andrew McRae, FSB's Scotland policy chairman, said: "While many small businesses will have moved heaven and earth to keep their staff on, unless we stabilise trading conditions then we risk a wave of job losses in the future.
"Anecdotally, many Scottish businesses don't realise that the extended furlough scheme is open to them at the moment, even if they don't face stringent restrictions.
"We need to raise awareness that Scottish businesses facing the indirect impact of current coronavirus restrictions - such as tourism firms in rural areas or city centre operators dependent on office workers - can use the scheme. That way we'll save many more jobs."
'Where am I going to go from here?'
Head chef Billy McCondochie and his junior colleague Brandon Wight both found themselves out of work in August after spending months on furlough.
They worked together in a restaurant in Edinburgh's Rose Street. They are now among more than 20,000 more people claiming Universal Credit in the city than in March.
Billy, 43, has moved from private rented accommodation to a temporary hostel and has had no luck finding kitchen work. Instead, he finds himself taking cleaning jobs.
He told BBC Scotland's The Nine programme: "It's not like I'm workshy. Being a chef in Edinburgh was like one long party. Maybe I should've saved money but I didn't think a pandemic was going to come.
"I've had dark nights. Where am I going to go from here? Are we ever going to get back to normal?"
'I'll take any job that's offered, I'm not too fussy'
Commis chef Brandon, 18, has worked in kitchens since leaving school two years ago.
He said: "I've been applying for anything really - retail, hospitality, cafes, bars and restaurants. I've not had much luck but I'm still looking.
"I'm really going to take any job that's offered, as I'm not too fussy at the moment. But I would like to get back into the kitchen as soon as possible."