Greenock Diodes plant given £14m investment boost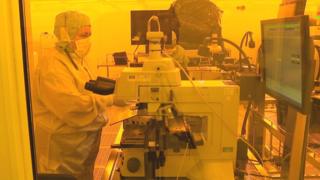 An electronics plant in Greenock that was threatened with closure last year is to receive nearly £14m.
The funding from Scottish Enterprise is part of a £47m investment deal so owners Diodes can upgrade the site and train the 300-strong workforce.
Semiconductor manufacturer Diodes Incorporated took over the site from Texas Instruments (TI) last year.
It followed an announcement by TI that it intended to move the plant to a more "cost-effective" site abroad.
The new funding package will see £12m invested in a five-year research and development project to help develop technologically-advanced transistors at the site.
A further £1.7m will go towards a training programme for workers.
The company has also received £169,500 from Inverclyde Council to assist with development of the site.
First Minister Nicola Sturgeon, who visited the wafer fabrication facility (GFAB) on Monday, said the funding package would help Diodes advance its research, develop new processes and products and make its systems more efficient and effective.
She added: "The Scottish Enterprise funding reinforces Inverclyde's prominence as an important area for manufacturing and business.
"I applaud Diodes' faith in its Greenock workforce."
Diodes' European president Tim Monaghan said: "With Diodes' expertise, the high calibre of the GFAB workforce, and support from Scottish Enterprise, I am excited by the opportunity we are creating to progress even further, building on our manufacturing capabilities to create a centre of process development excellence in GFAB."
A windy site, high on a hill above Greenock is an unlikely place for an electronics plant. But it's been here 50 years, and it looks set to stay for a while yet. Its long life is down to the power of what it makes - electronic switches, which control all sorts of modern technology. Everything from mobile phones to electric cars, computers and high-tech hospital equipment come under their authority.
The Greenock plant is futuristic - full of dust free rooms, lit with unearthly yellow light which won't damage the delicate electronics. Not a fleck of dust is tolerated. The workers all wear coveralls and face masks.
Once finished, the switches are shipped to factories in the Far East, Here they're added to the final products, for sale around the world.
So what's made in Greenock is a corner stone of a vast global market. And one which the new owners, Diodes Inc, are certain will grow.
Last year the firm had sales of more than a billion dollars. They're looking to double that in a matter of years. And they see the Greenock site as key to meeting that ambition. It's a big switch for a plant which was facing closure.