Nova Innovation to develop tidal array in Canada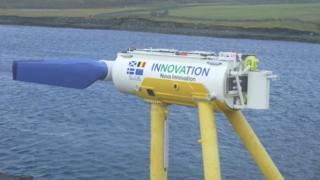 A Scottish energy firm has been granted a licence to deploy a tidal array in Canada.
Edinburgh-based Nova Innovation said the move would lead to 15 new turbines being installed in the Bay of Fundy, Nova Scotia, by 2023.
The project will provide enough electricity to power 600 homes.
In 2016, Nova said its offshore tidal array at Bluemull Sound off Shetland had become the first in the world to deliver electricity to the grid.
Some components for the array in Canada will be made in Edinburgh, although engineering work on the seabed platform and turbine rotors will be carried out in Canada.
Nova Innovation chief executive Simon Forrest said: "In the face of the climate emergency, we are on a mission to transform the power of the oceans across the world into clean, predicable energy.
"At five times the size of our array in Shetland, which is the first of its kind in the world, this project is a massive step forward for Nova Innovation and the sector - propelling Nova Scotia to a leading position in tidal energy."
Analysis by Douglas Fraser, BBC Scotland business and economy editor
Scottish renewable energy pioneers are used to seeing foreign companies taking an interest in their developments, but it's a rare contract that sees them selling or investing overseas.
Nova Innovation's licence to drill its tidal turbines into the seabed off Nova Scotia is a significant step in that direction.
Two catches: one is that the economic benefit of building the turbines won't be felt in the Scottish economy. The heavy welding work will be in Canada.
The other catch is raised by the company: the Nova Scotia provincial government is providing a floor price for power generated through its tidal turbines. The Edinburgh firm points to a strategy in the Halifax government offices for building the sector and a supply chain, thus taking a global lead in tidal power.
The UK could be doing the same, but the design of the Contracts for Difference subsidy system means that tidal and wave power - both far from commercially viable - have to compete with offshore wind power, for which the price has been dropping fast.
Unless tidal power is given a separate allocation of subsidy, it is less likely to build up to a commercial scale - at least until Canada or other countries have seized the global lead from Scottish developers.
Nova Innovation points to UK wind power following a similar path. The leading developments were in the UK, but government failed to follow through during the 1980s, and the commercial lead went to Denmark, where companies such as Vestas continue to benefit.