Dunkeld chippy offers deep-fried Christmas dinner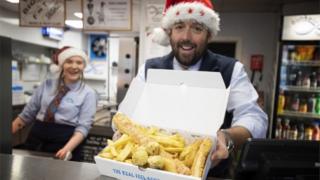 A Scottish chip shop is offering customers an entire deep-fried Christmas dinner.
Dunkeld Fish Bar in Perthshire claims its turkey goujons, battered Brussels sprouts and carrots and parsnip fritters are already proving popular.
They are served with a giant pig-in-a-blanket - a battered foot-long sausage - and a deep-fried mince pie on the side.
The speciality supper costs about £10.
Sale proceeds are going to the Dunkeld community, with a visit from Santa and his reindeer planned for local children.
Fish bar owner Scott Davie, 43, said: "People think they don't like Brussels sprouts, but they're always overcooked.
"We do them from raw, and their natural moisture content cooks them through, and they are absolutely amazing. "