New measures unveiled on Scottish limited partnerships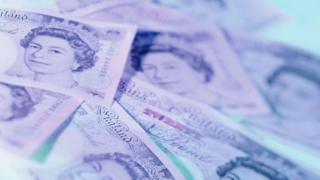 The UK government has unveiled new measures to tackle money laundering which has been linked to a business scheme.
It follows a consultation on the reform of limited partnership law by the Department for Business, Energy and Industrial Strategy (BEIS).
The measures include more stringent checks on those registering a limited partnership.
BEIS said the move would increase transparency and prevent abuse.
What are Scottish limited partnerships?
Limited partnerships are formed by at least two partners, one of whom must be liable for any debts - and another partner - who has limited liability but cannot play a role in how the partnership is run.
SLPs differ from limited partnerships elsewhere in the UK as they have a "legal personality", that allows them to enter into contracts, take on debts or own property. In a limited partnership in England and Wales or Northern Ireland, this is done by the partners.
Source: BEIS
The department said thousands of British businesses used Scottish limited partnerships (SLPs) and other limited partnerships legitimately.
But it has flagged concerns that they have been exploited in complex money laundering schemes, including one that used 100 SLPs to move up to $80bn out of Russia.
Beneficial owner
SLPs have also been linked to international criminal networks in Eastern Europe and have allegedly been used in arms deals.
The UK government said laws introduced last year requiring SLPs to report their beneficial owner and make their ownership structure more transparent led to an 80% reduction in the number registered.
The proposed reforms will apply to all limited partnerships in the UK.
Key reform proposals:
Those setting up limited partnerships must demonstrate they are registered with an anti-money laundering supervised agent
The limited partnership must demonstrate "an ongoing link" to the UK
Annual filing requirements would be introduced to ensure Companies House has accurate information on all UK limited partnerships
Companies House will be given powers to strike off dissolved limited partnerships and limited partnerships which are not carrying on business.
UK government minister Lord Duncan said: "The UK government continues to take the abuse of Scottish limited partnerships very seriously and will do everything necessary to crack down on crime lords exploiting them to launder dirty money.
"This latest package will deliver greater transparency and more stringent checks.
"It builds on measures we've already brought in to close loopholes in their use while ensuring legitimate companies can continue to choose SLPs as a way to invest in the UK."