Shipyard to launch claim against ferry firm amid design row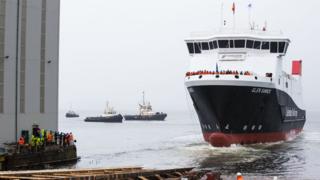 Ferguson Marine is set to launch a legal action against the Scottish government's ferry company over its £97m contract to build two new ferries.
The shipbuilder is constructing the two vessels for Calmac but is months behind schedule.
Ferguson Marine said there had been "unforeseen complexities" with the project, leading to extra costs.
The company, Caledonian Maritime Assets Ltd (CMAL), denied there had been any significant design changes.
In a statement, Ferguson Marine said: "Due to the repeated unwillingness of CMAL to engage with Ferguson Marine over the additional costs identified due to unforeseen complexities in building the two prototype vessels, we are in discussions with professional claims experts and aim to submit a formal claim to CMAL within the next few weeks."
CMAL buys and leases the CalMac ships on behalf of the Scottish government and ordered the two vessels, which are fuelled by both liquified natural gas and marine oil, to meet growing demand on the country's ferry network.
'Minor changes'
However, the £97m order is as much as a year behind schedule amid a row over design changes which Ferguson owner Jim McColl has previously claimed has added tens of millions of pounds to the cost.
Ferguson Marine has been given a £45m loan facility by the Scottish government as a result of the challenges it faces with the contract.
The Port Glasgow-based shipyard is building the two ferries for use on Calmac's Hebridean routes.
A CMAL spokeswoman said: "Ferguson Marine is under contract to supply the design and build of the two dual fuel ferries.
"It is an industry standard design and build contract with a fixed price and defined delivery dates.
"Ferguson Marine entered into the contract with full and prior knowledge of the specification and terms of the contract.
"CMAL fundamentally disagrees with any assertion that there have been significant design changes to the vessels. Minor changes have followed the contractual process and costs for these have been agreed with Ferguson Marine.
"These costs have been covered by a 3% project contingency budget held by CMAL."