Edrington chief executive Ian Curle to retire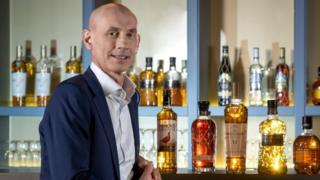 The company behind leading Scotch whisky brands such as The Macallan and Famous Grouse has announced the retirement of its chief executive.
Ian Curle will leave Edrington in March next year after 15 years in the role.
His successor will be Scott McCroskie, who is a member of the Edrington board and managing director of The Macallan.
Mr Curle joined the business in 1986 through Edrington subsidiary Lang Brothers, before succeeding Sir Ian Good as chief executive in 2004.
He has been chairman of the North British Distillery since 2002, is a former chairman of the Scotch Whisky Association.
Edrington chairman Crawford Gillies said: "Ian has led Edrington to become one of the world's leading international premium spirit companies.
"Ian exemplifies the Edrington ethos of 'giving more' and his vision has transformed Edrington, positioning the company well for the great opportunities that lie ahead."
Under Mr Curle's stewardship, Glasgow-based Edrington's staff numbers have grown from 900 to 3,000.
Mr Curle said: "It has been a privilege to have been part of a unique and genuinely leading organisation that contributes so much to the industry and so much to Scotland."
Mr McCroskie will take up the post of chief executive on 1 April.
Last month, Edrington announced it was selling its Cutty Sark whisky brand to French spirits group La Martiniquaise-Bardinet.
In June it also revealed it was putting its Glenturret malt distillery in Crieff, Perthshire, up for sale.
It is understood that the sale process is continuing.
Edrington's principal shareholder is The Robertson Trust, which has donated more than £250m to charitable causes since 1961.