Plan to make Scots beer a £1bn industry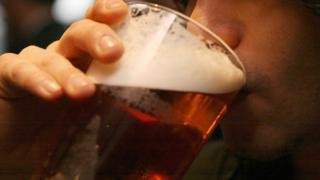 Scottish drinkers have been urged to ditch imported beer for local brew, as part of a drive to turn the sector into a £1bn industry by 2030.
Industry body Scotland Food and Drink wants Scottish brewed beer to be the "most desirable in the world".
The organisation said brewing must become seen as a real career choice.
The strategy came as independent brewers expressed concern about Scottish government plans to clamp down on alcohol marketing.
Scotland has more than 130 breweries, supporting more than 8,000 jobs.
Recent success stories include Innis and Gunn, which is planning to build a massive brewery in Edinburgh, where the company was founded in 2003.
Its new facility will have a capacity of 400,000 hectolitres - or more than 70 million pints - and the company wants to increase its turnover to £40m by 2021.
'Great beer'
Experienced brewery manager Hilary Jones currently co-runs Heidi Beers in Glasgow, which brews and distributes brands for West beer.
She chairs the Brewing Industry Leadership Group, which has looked into the Scots beer industry for Scotland Food and Drink.
"Even though we have an unrivalled track record producing great beer and centuries of history behind us, the rising popularity of global craft beer means that Scotland needs to sharpen its game if it is to remain an international leader," she said.
"We want consumers to buy Scottish beer, rather than imported beer and to drink beer responsibly."
The growth plan includes :
Making brewing an attractive career choice
Helping people in the industry get better at things like management and financial skills
Cutting costs by using and managing beer kegs more efficiently.
The strategy came after the Scottish government said it was considering banning TV drink adverts before 9pm and putting health warnings on labels.
Scotland is the only country in the UK to have seen a significant reduction in alcohol-related deaths this century.
However, the latest official figures say Scotland still has more deaths per head of population than any other nation.
Marketing regulation is reserved to Westminster, so Scots ministers will ask the UK government to act or devolve powers to Holyrood.
The Society of Independent Brewers in Scotland has said the industry wants to work with the Scottish government to cut alcohol abuse.
But the organisation said mandatory restrictions on alcohol marketing would hit small brewers while bigger, international competitors would be able to easily adapt.