Scots tycoon Sir Ian Wood says Brexit plan 'workable'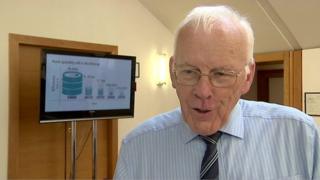 One of Scotland's most successful businessmen has said Prime Minister Theresa May's plan for the UK's exit from the European Union is "workable", but that it now needs to move forward.
Sir Ian Wood also said Brexit could bring significant benefits to the Scottish fishing fleet.
He has been driving a plan to reinvent the north east beyond oil and gas.
Speaking to the BBC, Sir Ian predicted industry spending in the area would be a third of current levels by 2050.
The prime minister has said her Brexit agreement is a "good deal for Scotland" that will protect jobs and provide new opportunities for business.
UK government analysis has suggested the country's economy could be up to 3.9% smaller after 15 years under her Brexit plan, compared with staying in the EU - but that a no-deal Brexit could deliver a 9.3% hit.
And the Scottish government has said Mrs May's Brexit deal could cost Scotland £9bn a year by 2030, compared to if it had remained in the EU.
'Difficult task'
Sir Ian, who made his name in north sea oil through his energy company Wood Group, said dealing with Brexit had been an "extraordinarily difficult task".
He told the BBC's Good Morning Scotland programme: "There is not a solution which anyone, or I suspect even more than 50% of the people would really say 'that's a really good solution'.
"I frankly think we do need to move ahead - it's what you hear most business people saying."
He added: "We cannot afford to have no outcome - it would be bad for Europe, it would be bad for the UK and it would take a long time to work our way through that.
"Frankly, I think the proposal that's on the table, I think it is workable. I think it is better than we have - we're out of Common Market membership, but we're maintaining some of the advantages.
Sir Ian added: "I think as far as fishing's concerned it's just been completely misreported. Where we are right now, we will be out of the Common Fisheries Policy, we will be a coastal state and we will be in a position to negotiate.
"No-one's got any thought of excluding European vessels from fishing in the waters, but over a period of time we will negotiate a higher share of the quotas of what is our fish.
"A Brexit outcome - I believe we will see significantly more fish coming to the Scottish fishing fleet."
The Scottish Fisherman's Federation industry body has voiced opposition to any Brexit deal that would extend the UK's membership beyond December 2020, as well as any arrangement preventing the UK from negotiating access and quota shares.
Sir Ian was speaking on the three-year anniversary of Opportunity North East, a private sector organisation aiming to bring about an economic renaissance in the area.
The businessman's philanthropic Wood Foundation has committed investment of £62m over 10 years to the project.
Sir Ian predicted north sea oil and gas development would continue for the next 10-15 years, with additional significant opportunities in decommissioning.
But he added: "By 2050, I think our annual spend on construction, maintenance and decommissioning will be less than a third of what it is now, so we've got a very significant downturn we're facing."
Sir Ian said north east Scotland had five or six other industries which could be expanded, including life sciences, hospitality, outdoor tourism and the digital sector.
He also said the area could become an internationally recognised base for the energy industry, even after oil and gas production finishes.
On the issue of remaining oil reserves, Sir Ian said: "There are varying degrees on this, and politicians get muddled in it.
"We've produced 45 billion barrels so far and I think a reasonable consensus - if you leave the politics out out of it - is possibly between 10 and 15 billion barrels, hopefully more towards 15 billion barrels."
"We've still got another quarter to go."
You can listen to Sir Ian Wood's full interview on the BBC Radio Scotland's Good Morning Scotland on Monday, 3 December.