Offshore decommissioning cheaper as industry becomes 'more efficient'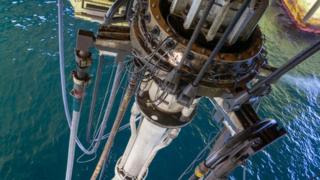 The costs of offshore decommissioning are falling as the oil and gas industry gains expertise and becomes more efficient, a report has said.
Industry body Oil and Gas UK's 2018 Decommissioning Insight Report predicts expenditure to run at about £1.5bn a year over the next decade - 20% lower than forecast in 2017.
It is estimated 1,465 wells will be decommissioned in that time.
That represents a fifth of the UK Continental Shelf (UKCS) stock.
Almost half of the UK expenditure is in the central North Sea.
Oil and Gas UK decommissioning manager Joe Leask said: "As the decommissioning sector matures, we're becoming more efficient and our growing expertise is enabling us to plan projects more cost-effectively.
"Our knowledge is continuously expanding and contributing to competitive decommissioning delivery.
"Our focus now needs to be on identifying the areas we excel in, strengthening the share of our local market and then exporting those skills and capabilities into the global market."
In 2015, a major conference heard offshore decommissioning was a new beginning for the North Sea industry. - meaning hundreds of new jobs requiring a new kind of expertise in the coming decades.
And last year, a simulator to teach skills involved in offshore decommissioning of oil and gas facilities was set up in Aberdeen.