The unsustainable NHS: What would you do?
NHS Scotland is heading for a crunch point, says Audit Scotland, because of rising demand pressures and tight budgets
Not all the challenges are about money, including the clinical pressure to specialise in fewer hospitals and growing recruitment gaps
Reform options include accelerating reforms already in place, but should other radical ones be added?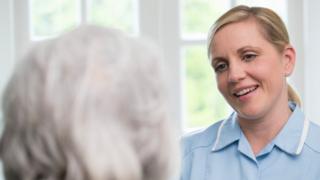 NHS Scotland is on an "unsustainable" financial path: overspending, more loans from the Scottish government, and ever rising costs at more than the main rate of inflation.
"Further and faster change is essential," says the Auditor General. She's said similar things before.
Is this different? How worried should we be? Is NHS Scotland close to a crunch point, or are the warnings overblown, or is it going to sink gradually because it's too difficult to admit the extent of change that's required?
For 90% of patients, their experience of the NHS is good or excellent. (That probably doesn't include those on waiting lists.) That's a good starting point. And the concept of the National Health Service, free at the point of need, has been described as the closest thing Britain has to a national religion.
But the Audit Scotland report says the system is showing a lot of worrying symptoms: health boards running deficits and more boards expecting to. Loans are required from the Scottish government, or they're being written off.
Boards are making one-off savings to balance the books, such as selling surplus land. You can only sell it once, and have to find a similar saving the next year.
The cost of agency staff is up, by 38% in five years to £166m. For locum doctors, it's up 40% in five years, to £100m.
Audit Scotland has drawn attention to the problem of recruiting the top staff, despite those very high salaries, and recruiting board members with the right skills.
In a survey of board members by the Holyrood health committee, a lot of them replied that they don't think their board has the skills it needs to do the job.
So there's little on the NHS Scotland financial dashboard that's reassuring. The message is clear: it can't go on as it is.
Taxation taps
A lot of this is not so much about the supply of funding as the rising demands on the health service. The population is up, people are living longer, with more complex conditions and expectations are rising of what the NHS can do.
Patients and their relatives want the latest, most advanced treatments. That's one reason why the bill for medicines has gone up in NHS Scotland by 19% in only five years, to £1.7bn. That's out of a £13bn budget.
Over the past decade, it's reckoned that there has been an average annual increase, in real terms, of 0.8% in Holyrood health budget. But the Fraser of Allander economics institute calculates that will have to rise to 2% per year during next decade.
A recent analysis by economist John McLaren points to Scottish government budget projections that rely heavily on very optimistic assumptions about efficiency savings and about the increase in demand.
The easy answer to this is to find more money, perhaps by turning on the taxation taps. But the Audit Scotland report starts by pointing out that health already takes £42 in every £100 that Holyrood spends. That share has been increasing, though in real terms last year, saw a small decline.
Health remains the top political spending priority, and the more it sucks up other resources to tackle the kind of problems identified in the report, the more other public spending feels the squeeze.
As for the taxation taps, there's the risk that they could or would probably trigger a fall in the growth rate.
Herr Doktors
And part of the problem is about issues other than money. Even a huge boost in funding isn't going to magic up the recruits needed across several areas of the NHS.
There aren't enough people available with the right skills. Even if they are trained - and that takes time and a lot of resource - a lot of newly qualified health professionals take the opportunity to work elsewhere. Work as a doctor in Australia is reputed to be much less pressured, with a lot more time off.
And Brexit won't help. All is uncertain around that, of course. But the report says one in 17 doctors in Scotland is from another European country. The total non-UK European workforce in health and social care is reckoned to be 17,000.
They may stay, but would new recruits be allowed in, and made to feel welcome?
Then, when you've got a consultant doctor in training, they are drawn towards working in the busy hospitals, where they get to specialise. That helps them become more qualified. So general and district hospitals outside the cities are struggling more than others to fill vacancies.
There are particularly harsh pressures on GP practices. They get paid well, so well that most of them are now part-time. But nearly quarter of family doctor practices last year had vacancies, and of those that found a recruit, quarter took more than six months to do so.
Responsible patients
So it's time for a big, open debate, involving the public, politicians and those who work in the NHS.
Audit Scotland is constrained in how much it can say. Its statutory role is to audit the spending of public money, and to do so against the aims and targets set out by the Scottish government.
It's not the job of Audit Scotland to tell the government that it's got the wrong policy, or to say what a better policy might be.
The Auditor General suggests very strongly that there should be a swifter transition to the integration of social care with the health service.
That is already government policy. It's seen as important to keeping vulnerable people's care in or near their own homes, and if they are well looked after, there should be less call on very expensive treatments when they turn up at accident and emergency wards.
Caroline Gardner also reminds us that another Scottish government target is to get people/patients to take more responsibility for their own health.
There are more radical ways of tackling the unsustainable finances in the NHS, which Audit Scotland does not have the remit to suggest.
But how about a modest user fee when you visit your family doctor or the casualty ward? That might manage some of the demand, and deter some of the more frivolous, avoidable ailments that doctors have to deal with.
But on the other hand, what of those who can't afford a fee, or those who are deterred from visiting their local clinic when they're already reluctant to go, and they should get checked out?
Likewise, a very difficult solution would be to reduce the amount the NHS does for free.
Dentistry is already a mixture of subsidised check-ups with modest payments, and then a mix of NHS and private treatments. What if that were to be extended?
Where would you wield the scalpel?
None of these are easy, but Audit Scotland is telling us that failing to make the big decisions about the future of the NHS is no longer an option.