BrewDog scraps deal with US beer firm over Trump offer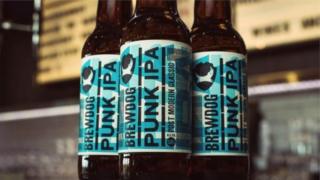 Scottish craft brewer BrewDog has pulled out of a tie-up with a US beer maker after a row over free drinks to Donald Trump supporters.
Ellon-based BrewDog had planned a series of events with Scofflaw at bars across the UK this weekend.
It appeared the American firm had said anyone backing the US president could get "beered up redneck-style free of charge".
But Scofflaw later distanced itself from the promotion.
BrewDog founder James Watt said the offer had nothing to do with his company and scrapped all the events.
Mr Watt posted on Twitter: "The Scofflaw release was announced without our knowledge or consent.
"We are in no way aligned with their position and we will of course be cancelling all the events and sending all of the beer back.
"We care about beer and people. Not hate."
But Scofflaw later tweeted: "We did not approve or release said message and we are working with our PR firm @WelcomeToFrank to fix this error.
"This post was done on our behalf without our consent or knowledge."
Scofflaw said in a statement that it was "appalled by the inaccurate posts concocted this morning" on its behalf by Frank PR.
Scofflaw owner Matt Shirah said: "This post is absolute nonsense. While we definitely have country roots, no one at Scofflaw Brewing or those associated with our brand, is now, or has ever been, rooted in hate. We do not tolerate hate, that's just idiotic."
"We could care less about your political viewpoint, only if you like our beer."
Frank PR was unavailable for comment.
Last year, BrewDog launched a protest beer against President Trump's decision to withdraw the US from the Paris Agreement on climate change.
The Make Earth Great Again beer featured on its label a polar bear fighting with a robot version of Mr Trump.