AG Barr reports rise in first-half sales and profits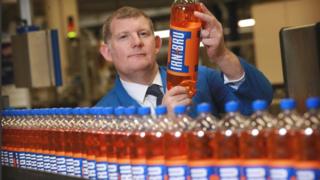 Irn-Bru maker AG Barr has reported a rise in sales and profits after shrugging off the new sugar tax, the March cold snap and CO2 shortage.
The Cumbernauld-based firm reported a 4% rise in underlying pre-tax profits to £18.2m for the six months to 28 July after sales climbed 5.5% to £129.8m.
Barr said its "growth momentum has not been interrupted" in spite of headwinds hitting the sector.
It also pointed to a "challenging and volatile marketplace".
Barr revamped its drinks ranges to reduce their sugar content ahead of the launch of the new UK soft drinks sugar tax in April.
The group stopped making the original full-sugar version of Irn-Bru in early January - but the move prompted a backlash, with fans stockpiling the fizzy drink ahead of the recipe change.
Barr also had to contend with a market-wide shortage of CO2 at the height of the summer heat wave, when demand for fizzy drinks surged.
Added to this was a period of extreme weather, with the Beast from the East in early spring and the searing temperatures in June and July.
Chief executive Roger White said: "We have delivered a solid financial performance in the first half of the financial year, navigating through the soft drinks industry levy implementation, reformulation, extremes of weather and CO2 shortages in addition to a dynamic consumer, customer and macro-economic environment."