Arnold Clark profits drop to £107m but used car sales rise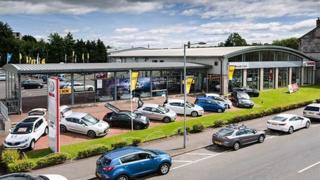 Scotland's biggest car dealer has reported a drop in profits.
In its 2017 accounts, just published by Companies House, Arnold Clark has seen pre-tax profit fall from £125m to £107m.
Sales of new cars fell during the last 12 months, along with the margins on them, but a rise in used car sales saw revenue up 7%, and close to £4 billion.
The fall in the value of sterling after the Brexit vote hit profitability on imported cars.
This meant less stock was available.
The number of new cars sold by Glasgow-based family firm Arnold Clark dropped from 80,000 in 2016 to 70,000 during last year.
The number of used cars was up by 10%, from 198,000 to 218,000.
The year saw the death of company founder Sir Arnold Clark, in April 2017, at the age of 89.
His widow, Lady Philomena Clark, took over the chairmanship of the group in October of last year.
According to Eddie Hawthorne, chief executive, last year was a challenging one for the industry, with falling new car registrations across Britain.
Website showcase
He said there were significant increases in the group's costs, including £3m extra for the business rates bill, more than £1m in the Apprenticeship Levy and more than £1m from the removal of the cap on fees charged to businesses for credit card use.
The accounts say that revenue from servicing of cars and vans was up from £92m to £95m, and hiring income fell slightly, from £181m to £180m.
The number of employees was up from 10,672 in the average month of 2016 to 11,477 during last year. The highest paid director, included in audited accounts and which is usually the chief executive, had pay of more than £3.5m.
During last year, Arnold Clark took over its first Mitsubishi dealership, in Stirling.
It developed its Motorstore concept for used car sales, opening four new sites last year, including expansion into Yorkshire, with sites in York and Wakefield. During 2018, it has been developing a further site in Doncaster.
The Motorstore in Perth was moved to a more prominent site, and the company opened a new Volkswagen service centre in west Glasgow.
The firm has also emphasised the role of its website for showcasing cars on sale, and its accounts state that it had more than 30 million online visitors last year.