Call to protect gins, vodkas and rums made in Scotland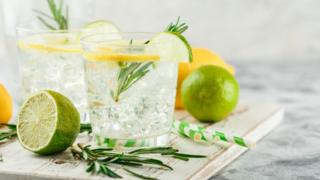 Distillers are calling for greater protection for gin, vodka and rum brands amid concern that some spirits are being named after Scottish places despite being made elsewhere.
The Scottish Distillers Association wants spirits to have the same protection as Scotch whisky.
It is encouraging those making spirits in Scotland to sign up to a new accreditation scheme.
It wants to ensure consumers are not "duped" into buying certain products.
The boom in craft gins and vodkas has prompted concerns over the use of Scottish place names in the branding.
Strict criteria
Scotch whisky is a protected brand and so can only be labelled as such if it is made in Scotland. However, for products such as gin, vodka and rum there is no similar legal protection.
As part of a relaunch, the Scottish Distillers Association has created an accreditation and "quality marque" scheme.
Any distiller in Scotland can apply but they must meet strict criteria.
Alan Wolstenholme, chairman of the Scottish Distillers Association, said: "We are concerned about consumers being duped into buying a product named after a place in Scotland when in fact it has been made elsewhere, in some cases an entirely different country.
"We are asking for distillers to make reasonable claims around the location where their products are made.
"We believe that this is essential to protect the incredible global reputation we have in Scotland for producing premium quality spirits."
The five criteria which distillers are being asked to meet are:
Own and operate a still in Scotland
Have a skilled and qualified named individual responsible for quality
Distil and bottle spirits in Scotland
Make reasonable claims in the place naming of spirits
Operate with an HMRC licence and in accordance with the Trades Description Act, Advertising Standards Authority and responsible drinking guidelines.
'Consumer confidence'
Liam Hughes, founder of the Glasgow Distillery Company, is involved with the work being done by the Scottish Distillers Association.
He told the BBC's Good Morning Scotland programme: "What we are trying to do is to ensure that products that are made in Scotland are accredited and that consumers have complete confidence and belief in terms of what they are buying and the providence in terms of that product and where it is made.
"The Scotch Whisky Association do a fantastic job and have done for years.
"What we would like the Scottish Distillers Association to do is to encompass the other spirits made in Scotland - whether that's gin, vodka, rum, or even absinthe - and protect those in law in the same way that Scotch whisky is protected.
He added: "It's about transparency and honesty in terms of the products that are made and where they are being made."