Scots firms call for 'more modern' business rates system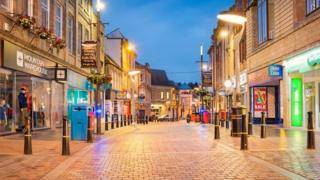 Plans by the Scottish government to introduce more frequent business rate revaluations will fail unless a "more modern" tax system is delivered, a business lobby group has warned.
The Federation of Small Businesses (FSB) said modernisation should include a new "digital rates interface".
It argued the move would help firms pay bills, apply for reliefs, lodge appeals and submit data.
FSB was responding to a consultation on proposed business rates legislation.
The Scottish government said it would "consider response from relevant organisations fully and respond in due course."
Ministers are planning to "enhance and reform" Scotland's business rates system by introducing a new bill during the 2018-19 session of the Scottish Parliament.
The proposals, many of which are based on the recommendations of the Barclay Review, include reducing the current five-year valuation cycle to three years and measures aimed at improving the administration of the system.
The consultation period for the proposals is due to end on Monday.
In its consultation submission, FSB said that while tens of thousands of its members received full or partial relief through the Scottish government's Small Business Bonus scheme, many continued to find the rates system "old-fashioned, bureaucratic and opaque" .
Andrew McRae, the FSB's Scotland policy chairman, said: "We urged ministers to introduce more frequent revaluations, so that firms' bills better reflect market conditions.
"But for that to work, we need the system to purr, rather than creak."
FSB urged ministers to deliver a "modern rates system" at least two years before the next business rates revaluation in Scotland takes place in 2022.
Mr McRae said: "What we'll need to see alongside these new laws are ministers dragging the system into the 21st Century.
"That means a new national digital interface to pay your bill and apply for help. That means bodies involved in the system working in harmony. That means the provision of intelligible information about how your bill is calculated to ratepayers."
'Spirit of devolution'
Meanwhile, an independent think tank urged the Scottish government to extend the "spirit of devolution" to local authorities and give them full control over business rates.
In its submission to the consultation, Reform Scotland called for devolution from Westminster to Holyrood to be extended to devolve powers to local authorities.
Reform Scotland director Chris Deerin said Scotland was a "highly centralised state", highlighting that business rates were controlled by Holyrood but collected by councils.
He said: "It is now time for the Scottish government to embrace the spirit of devolution by applying the same principle to its own relationship with local government.
"Business rates should be devolved to local authorities in full, they should set the rate, the discounts, and how and where the tax is applied.
"They will then be empowered to use the tax as a tool to drive business investment, should they wish to do so, and to optimise their tax take."
A Scottish government spokesman said: "We are seeking the views of business and other stakeholders on the proposed legislative changes that we intend to bring forward to ensure we maintain a competitive advantage for Scottish ratepayers.
"We will consider response from relevant organisations fully and respond in due course."